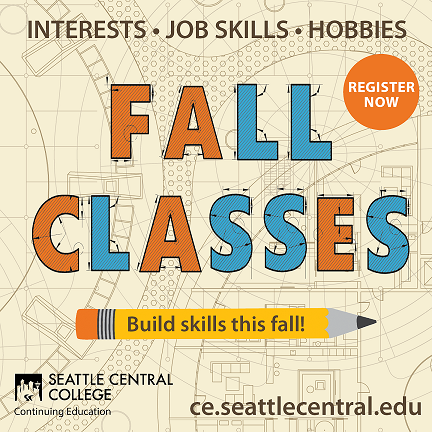 This fall we are featuring classes that help people gain useful, fun, and practical skills. Classes can help you become more capable and informed in a wide variety of exciting fields. As the weather cools down and the days begin to shorten, enjoy time indoors learning something useful and meaningful to you. 
Classes come in all shapes, sizes, and topics. You'll find a mix of in-person, online, and hybrid formats. Locations include our main campus on Capitol Hill (Broadway Edison and Fine Arts), the Wood Technology Center in the Central District, the Seattle Maritime Academy in Ballard, and online. 
See new classes and seasonal highlights below and click on blue links to learn more, and be sure to explore the orange navigation bar above to find what calls you.                           
Paralegal Certificate Course & related classes  
Are you interested in working as a paralegal or knowing more about law for your profession? Experience high quality education taught by law professionals in a convenient online format through our partnership with the Center for Legal Studies. 
Certificate in Grantwriting  
Develop the knowledge needed to become a successful grant writer, from project design to development and persuasive writing. Choose from two times: noon-1p or 5-6pm on Tuesdays. Online; instructor: Allison Shirk. Questions? Come to the Certificate in Grantwriting Info Session on Tue, 9/26, 5pm. 
HEALTHCARE CAREER TRAINING with CAREER STEP
Gain skills directly related to working in healthcare in online courses. Choose from Medical Office Manager, Physical Therapy Aide, Veterinary Assistant and more. Questions? Come to the Healthcare Certification Training Programs Online Info Session  with Career Step on Tue, 9/12, 6pm.
FITNESS CAREER TRAINING 
Are you a fitness, health or sports professional? Are you an athlete or someone simply interested in health? Gain practical knowledge online (self-paced) and earn professional certifications with our new partner, GMP Fitness: GMP Fitness Professional Certifications, Advanced Certification Bundle Courses and Elite Certification Course. 
Develop practical skills that you can you across most fields, using proven project management tools. Learn from a professional with extensive experience! Questions? Come to the Project Management Info Session: Wed, 9/13, 6pm; online; instructor: Jim O'Donnell.       
Foundations of Project Management  (in person)                 
Accelerated Project Management Certificate (online & two quarters -- fall & winter)           
Bilingual? Learn how you can put your language skills to work and help people bridge communication barriers. Questions? Come to the Translation & Interpretation Info Session (free) on Thu, 9/28, 5:30pm; online. See ALL translation & interpretation classes.   
Translation and Interpretation: Basics              
Advanced Interpreting Skills 1: Spanish/English       
Translation and Interpretation Certificate Program
These special classes are perfect for home cooks as well as professionals wanting to immersive themselves in the art and science of food. In person at Broadway Edison on Capitol Hill.
Food and Cooking Through Science             
Chocolate Making: from Bean to Bar
Make beautiful objects with your own hands! These popular classes tend to fill up, so register early.
Basic Carpentry & Woodworking   
Woodworking - Level 1                                                  
Wood Carving: Animals  and Wood Carving: Spoons                                
Each quarter we offer a new mix of languages, levels, and fantastic instructors in the Fall options include American Sign Language, Chinese, English, French, German, Japanese, Korean, and Spanish. See ALL Language Academy classes.          
Fall Focus: Gaelic History
The Gaels: Consequences of Empire and The Gaels: History, Art, and Mythology                   
Enjoy daytime classes designed for older community members and open to everyone; mostly in person. See ALL Broadway Hill Club classes. New and season include:
Basic Computer Skills for Seniors      
Being at Home in the Universe of Galaxies      
German for Travelers      
Focus on Digital Photography Beyond Auto
Featured Class:
Memoir Writing Workshop                                      
Are you ready to tell the story of your life (or at least a couple stories)? Find your flow and explore themes, subjects and scenes that feel compelling to you. Broadway Edison Building; instructor: Ann Hedreen.        
Build artistic skills and enjoy the expertise of talented artist instructors. See ALL art & photography classes. Highlights include:
Life Figure Drawing                        
Drawing & Sketching                        
Holiday Cards in Watercolor                        
Introduction to Digital Photography                     
Drawing - Intermediate                        
Block Printing                        
Drawing from Observation                        
Pen and Ink Art
Featured Class:
Acrylic Painting - Beginning                             
Learn how to express yourself using the vibrant colors of acrylic paint, and basic techniques such as color mixing, blending, texture, brush styles, and more. No experience needed! Fine Arts Building; instructor: Peter Barth.     
Gain the support, guidance, and inspiration of a teacher who is a professional writer, and a community of peers. These classes meet in person at Broadway Edison on Capitol Hill:
Memoir Writing Workshop                       
How to Write a Page-Turner                                                     
Publish Your Own Book: Create Content                                                                      
Workshops
It's uncommon that we can offer free education, but here are two exceptions:
Welcome to Medicare                                                  
Tue, 10/24, 9am-noon; Broadway Edison Building; instructor: Larry Cole
Leadership and No Blame Problem Solving                                           
Self-paced (flexible schedule); online; by the Citizen's Campaign
Info Sessions
Learn about upcoming classes, with plenty of time for Q&A in a free Free Info Session.