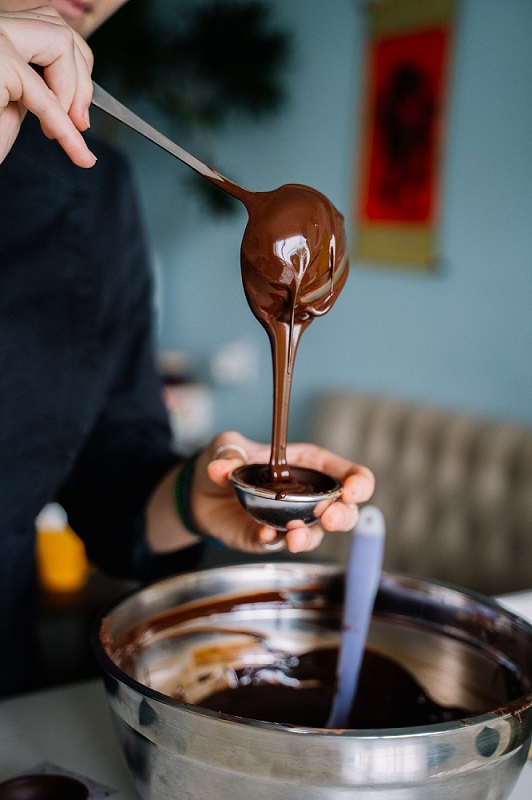 Class Overview
Are you a chocolate lover and want to become a chocolate maker? Dive into the fascinating and delicious world of craft chocolate! Enjoy a hands-on experience with every step in chocolate making.
Explore one of the most interesting, diverse, and popular foods that is consumed worldwide, starting with the cacao bean and ending with a delectable variety of sweets and chocolate products. Discover how to make many favorite chocolate crafts including bars, drinking chocolate, couverture (with higher fat content), and other items, starting with raw cacao beans. Try your hand at molding bars, concocting drinking chocolate, and creating other delicious products. Learn about tempering chocolate and the care of chocolate products. 
Explore environmental and social issues surrounding chocolate, what companies are doing to improve these issues, and how you can help. 
Get ready to do every part of the process yourself, or with a team, and enjoy tasting as you go. Try your hand making milk chocolate and dark chocolate, and learn about alternate sugars, infusions, and inclusions. Also learn about roasting profiles, cracking and winnowing, melanging, and conching. 
As a bonus, we will also explore chocolate's cousin, coffee. We will roast coffee beans and pull espresso shots in a mini coffee workshop.
Finally, explore the fascinating science at work in chocolate making and how to put it to work to get the best results in your delicious concoctions. 
This program is approved for 30 continuing education hours toward your application for certification by the American Culinary Federation (ACF), or recertification. See the other related class offered this quarter, also approved by the ACF: Food and Cooking Through Science.
** A $150 materials fee will be due to the instructor. 
Learning Objectives
Understand how cacao beans are grown, harvested, fermented, and exported 
Be familiar with the entire process of chocolate-making, including the two main methods of bean-to-bar
Understand roasting profiles and how to evaluate cacao beans and roast for optimum and desired flavors 
Be able to make your own bar chocolate, drinking chocolate, and other items starting with nibs and beans 
Roast coffee beans 
Appreciate craft chocolate and be able to evaluate flavor notes 
Who Might Enjoy This Class?
Anyone interested in making chocolate for personal use, a small business, or to gain knowledge and experience for working in the industry. 
Baking and culinary students interested in gaining a deeper understanding and hands-on experience making chocolate. 
Anyone working in the food industry, regardless of your specialization.
People interested in certification or re-certification by the  American Culinary Federation (ACF), seeking continuing education hours. 
Class Details
When : Monday, Oct 02 to Nov 27 ; 5:30 pm to 8:00 pm
Location : SC0BE , SC - BE - Cont Edu - BE1139B , 1701 Broadway Seattle WA 98022
Fee : $649
Instructor