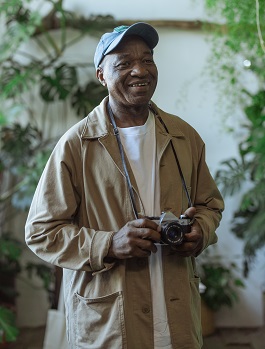 Student Reviews
"Ray's encouraging feedback and info about ways of using my camera really helped me improve my comfort with this medium."

"Great class!"
Class Overview
Are you perplexed by your digital camera and all the settings and buttons? Do you wish your photographs looked better? Learn the basics of photography and how you can get much more out of your camera in this fun and rewarding hands-on class.
Explore what the automatic settings can do for your photographs - and what they can't. Gain a solid foundation in photography and how to apply the concepts to your photos. Discover how to put your camera to work for you, and how to go far beyond the default "automatic" settings. Learn how to get creative with the options in front of you and make your photographs more effective, artistic, useful, and evocative.
We will explore various settings, giving you time to practice and explore. We will go on a field trip as a class to take photos together in the city, testing out a variety of concepts in photography. As a class we will share photos and discuss them, an enjoyable and highly rewarding practice for everyone to learn from each other.
If you are beginning your photography journey with a digital camera, get ready for a fun learning experience with your camera.
Supplies Needed
A digital camera, anything from point-and-shoot to digital SLR, to mirrorless.
A computer so you can attend online classes via Zoom, and post your photographs to the internet using flickr.com for sharing and feedback.
Learning Objectives
Understand the foundation of photography
Demystify most of the settings on your camera, including Aperture Priority, Shutter Priority, and Manual Exposure
Know when to use automatic, and when not to
Have a comfort level working with a variety of the settings on your camera
Understand white balance and histograms and why they matter
Adopt a primary setting for the bulk of your future photography
Create better photographs
Better capture the photo opportunities in front of your lens
Who Might Enjoy This Class
Anyone who wants to get more out of their digital camera - whether a brand-new camera or one that you have owned but don't understand well
Class Details
When : Thursday, Oct 05 to Nov 09 ; 6:00 pm to 8:00 pm
Location : Online , Zoom WA
Fee : $259
Instructor