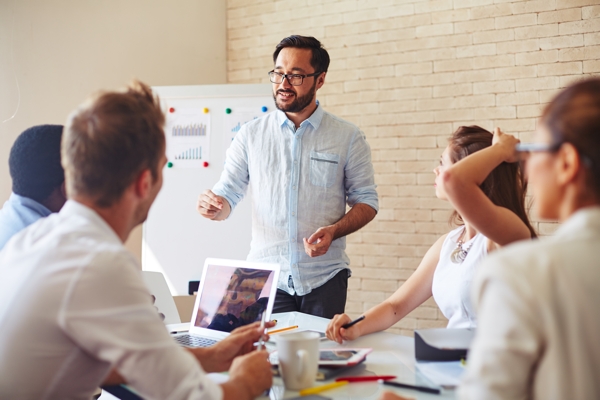 Student Reviews
"Beyond my expectations, the instructor is very knowledgeable and charismatic. I like the interaction with Adobe Connection (raising hands, chat window, and breakout team sessions)."

"I enjoy the group work and applying what we're learning."

"Jim is really funny and makes the content easier to understand."
Class Overview
Learn how to guide a project and team members successfully, using effective project management tools. Gain experience using a practical approach to project management that can be applied immediately to your workplace. In this accelerated certificate course, you can enjoy an in-depth learning experience and earn a professional project management certificate in two quarters.
The core curriculum brings to life the latest Project Management Body of Knowledge (PMBOK) guidelines, and revisions, developed and taught by credentialed project management professionals. Examine the specific challenges that often get in the way of delivering projects and following through on commitments.
Step up the pace and complete your program more quickly with an accelerated format. Move through the program's full curriculum in a condensed time frame, attending more class hours each week, for fewer weeks overall.
2022-2023 Schedule Details: Eight courses (33 sessions, M & W, 6-9:15 pm)
*** Due to our system limitation, the course end date that you see underneath "Course Details" is the last day of the Fall 2022 class, not the actually course end date. This course runs for two quarters and the last day of the class is 3/1/2023.
Foundations of Project Management: Sept. 28, Oct. 3, 5, 10, 12, 17
Requirements & Procurement Management: Oct. 19, 24, 26, 31
Project Cost Management: Nov. 7, 9, 14, 16
Project Quality & Control: Nov. 21, 28, 30, Dec. 5
Project Risk Management: Jan. 4, 9, 11, 18
Project Leadership Essentials: Jan. 23, 25, 30, Feb. 1
Intro to Agile Project Management: Feb. 6, 8, 13, 15
Capstone: Project Simulation: Feb. 22, 27, March 1
Learning Objectives
How to define project scope, choose an approach and translate a statement of work into a complete and effective project plan
Tactical leadership skills, stakeholder management practices, and team-building capabilities
Risk definition, risk management processes, and change management procedures
Presentation and communication skills needed for project management
Who might Enjoy This Class
Individuals who lead or serve on projects.
Professionals seeking hands-on skills for managing and overseeing projects and team members.
Anyone who wants to increase their value to their employer, or their marketability in the job market.
Career Outlook
"According to PMI's 2021 Talent Gap report, 2.3 million new project management employees will be needed each year to meet global talent demands by 2030." --- PMI 2022 Job Report
Class Details