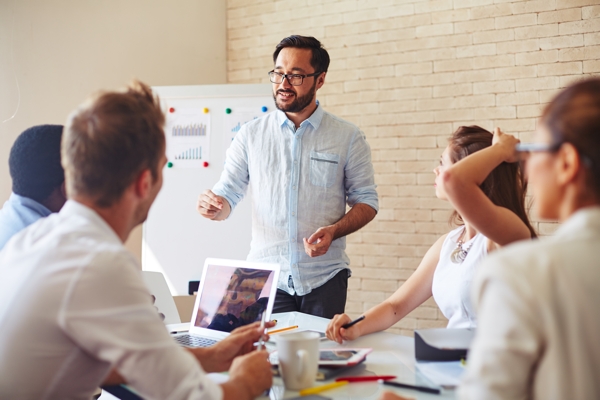 Student Reviews
"Beyond my expectations, the instructor is very knowledgeable and charismatic."

"Class is great and Jim is great at teaching and an expert on the subject."

"I enjoy the group work and applying what we're learning."

"Jim is really funny and makes the content easier to understand."

"I like the interaction with Adobe Connection (raising hands, chat window, and breakout team sessions)."
Class Overview
Have you ever managed a project and felt overwhelmed by the process or underwhelmed by the results? Or do you aspire to be a project manager, but need training? Learn how to guide a project and team successfully, using effective project management tools with real-world applications.  
Gain experience using a practical approach to project management that can be used immediately in a work setting. Enjoy an in-depth learning experience that will enhance your job growth and performance. If you have no experience managing projects, these skills could be a pathway to a new career.
The core curriculum brings to life the latest Project Management Body of Knowledge (PMBOK) guidelines, taught by a credentialed project management professional with vast experience. We will examine the specific challenges that often get in the way for people delivering projects, and learn how to work through them skillfully.   
This class has an accelerated format, designed to provide high-quality content in a relatively short period of time over two quarters. It is scheduled for evenings to accommodate people who work during typical business hours.
Earn a professional project management certificate that will bolster your resume and inform future employers about your knowledge and skills. This class will prepare you for professional project management exams from the Project Management Institute that will demonstrate your competence and expertise: Certified Associated Project Management (CAPM) exam (no experience needed) or Project Management Professional (PMP) exam (if you have experience).
The Agile Project Management Bundle includes the classes below with an asterisk (*). These sessions introduce the skills, processes, and techniques for Agile/Scrum projects, especially suitable for IT/software or related project leadership roles.
Foundations of Project Management**: 9/27, 10/2, 4, 9, 11, 16
Requirements & Procurement Management: 10/18, 23, 25, 30
Project Cost Management: 11/6, 8, 13, 15 - No class on 11/1
Project Quality & Control: 11/20, 22, 27, 29
Project Risk Management: 12/4, 6, 11*, 13*
Introduction to Agile Project Management: 1/8*, 10*, 17*, 22* --- No class on 1/15
Project Leadership Essentials: 1/24*, 29*, 31*, 2/5*
Project Management Capstone: 2/7, 12, 14
* Part of the Agile Project Management Bundle
** Note: If you're interested in a shorter introductory in-person class, see: Foundations of Project Management.
Resources
No textbook will be needed – the instructor will share materials.
Optional reading: Global Megatrends Report by the Project Management Institute.
Schedule Details
33 sessions, Mondays & Wednesdays, 6-9:15pm; 9/27/2023 through 2/14/2024
Note: This course runs for two quarters and the last day is 2/14. Due to our system's limitation, the course end date that appears below Course Details is the last day of the fall 2023 class, but not the last day of the program. 
Learning Objectives
How to define project scope, choose an approach, and translate a statement of work into a complete and effective project plan
Tactical leadership skills, stakeholder management practices, and team-building capabilities
Risk definition, risk management processes, and change management procedures
Presentation and communication skills needed for project management
Who Might Enjoy This Class
Individuals who lead or serve on projects.
Anyone seeking hands-on skills for managing and overseeing projects
People who want to increase their value to their employer, or their marketability in the job market.
Project managers who want to refine their knowledge, skills, and experience
Anyone interested in preparing for the CAPM or PMP exams.
Everyone is welcome – no experience required!
Career Outlook
Glassdoor reports that project managers in Seattle earn over $100k. In the PMI 2022 Job Report, it states, "According to PMI's 2021 Talent Gap report, 2.3 million new project management employees will be needed each year to meet global talent demands by 2030." 
Free Info Session -- Wednesday, September 13; 6-7 pm
Meet the instructor, find out more about the class, and ask your questions!
Class Details
When : Monday, , Wednesday Sep 27 to Dec 13 ; 6:00 pm to 9:15 pm
Location : Online , Zoom WA
Fee : $2695
Instructor