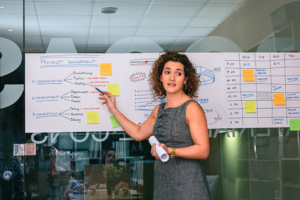 Student Reviews
"New information and met amazing people!"

"The instructor thoroughly explained concepts and examples, and also provided real life application practice."

"Participating in group activities and going through the actual PMBOK processes was very helpful."

"The instructor is knowledgeable and the exercises are useful."

"The instructor was very kind and friendly."
Class Overview
Project management skills are essential in a wide variety of professional roles, and can even be a wonderful asset in your personal life. Learn how to become a skilled project manager in this class. Discover how to reach the goals of any project successfully, while leading a team to accomplish all aspects of the project.
Gain basic knowledge, skills, tools, and techniques that you can apply to a wide variety of projects, even though each project is unique. Focus on managing a single, stand-alone project as the basis for your learning during this class. In each session, we will work through aspects of the project lifecycle, from planning to executing, to closing, and everything in between. You will be able to follow the same steps for managing future real-life projects. 
During this course, explore the following aspects of project management:
Project lifecycles from initiation through planning, executing, controlling, and closing
Scope management
Cost management
Project charters
Creating a work breakdown structure
Network diagramming
Finalizing the project plan
Stakeholder identification
Scheduling and schedule management
Earned value measurement
Change control
The curriculum is based on the Project Management Institute's Guide to the Project Management Body of Knowledge and provides the foundation for your training to become certified as a Project Management Professional (PMP). This is the first part of the Accelerated Project Management course (highly recommended if you'd like to pursue the PMP exams and certification).
Learning Objectives
Be able to list a typical set of deliverables needed to effectively manage a small, stand-alone project
Write a project charter for a small project
Create a project plan for a stand-alone project
Know how to develop a work breakdown structure
Be familiar with the estimating process
Be able to develop a project schedule, including estimating, PDM network diagramming, critical path method, and developing a Gantt chart
Understand the importance of risk management and be able to facilitate risk management planning for a small project
Identify key project management activities that go on during the execution phase of a project
Understand project scope creep and describe the change control process
Know what activities are associated with the project performance control and be able to define operating metrics and control thresholds
Identify key project closing activities
Understand the importance of lessons learned and their impact on future projects
Use MS Project to effectively plan, schedule, analyze resource utilization, and track project performance.
Who Might Enjoy This Class
Prerequisites: An understanding and experience with MS Windows and Office products; two or more years of experience in a project management environment is helpful, but not required.
Product or program managers, coordinators, staff or supervisors
Anyone interested in understanding project management
Journey-level project managers seeking to deepen their expertise and understanding
Subject matter experts
Financial analysts
Team leaders, stakeholders, and senior leadership
Class Details
When : Thursday, Jan 11 to Feb 22 ; 6:00 pm to 9:15 pm
Location : Online , Zoom WA
Fee : $495
Instructor