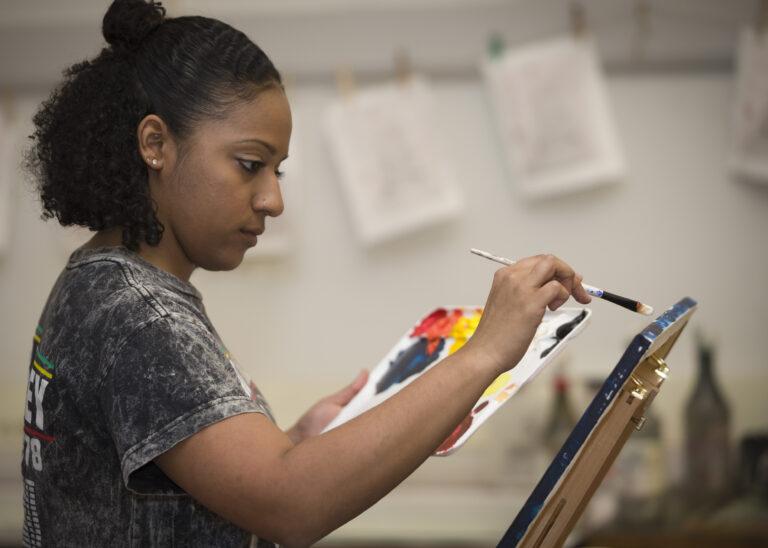 Class Overview
Explore your creativity and develop your artistic skills by learning to paint with acrylics in this class for beginners.
During this introductory class, enjoy the experience of putting paint on paper and discover the fundamental properties and techniques specific to painting with acrylics.
Study the fascinating field of color theory and how you can utilize the potent colors available in acrylic paint for a powerful effect.
Enjoy the ease of using acrylic paints, including fast and easy clean-up. In addition to guided instruction by the teacher, you will have the opportunity to explore your interests.
Supplies Needed
Click here to see the supply list.
Learning Outcomes
Gain an understanding of the characteristics of acrylic paints
Become familiar with painting techniques specific to acrylic paint
Develop painting technique and ability
Expand your knowledge of color theory
Create original paintings
Who Should Take this Class?
Anyone interested in exploring their creativity and developing their artistic skills - no experience necessary!
People interested in painting
Artists who would like to learn to use acrylic paint
Class Details
This class is held online by videoconferencing. It is led by an instructor(s) in real-time as an interactive class experience. To attend and participate fully you will need access to a computer or device with video and a microphone, plus high-speed internet connection. Instructions to access the class will be emailed to you by the instructor or staff member before the class begins.
Note: part of this class might be recorded, for the students and instructor to use for review only; recordings will be deleted after the end of the quarter.
5 Thursdays ; Jan 13 to Feb 10 ; 6:15 pm to 8:45 pm

Location : SCONL; Room Online

Fee : $179
Class ID : 38804 ; SKU : 32163
Instructor