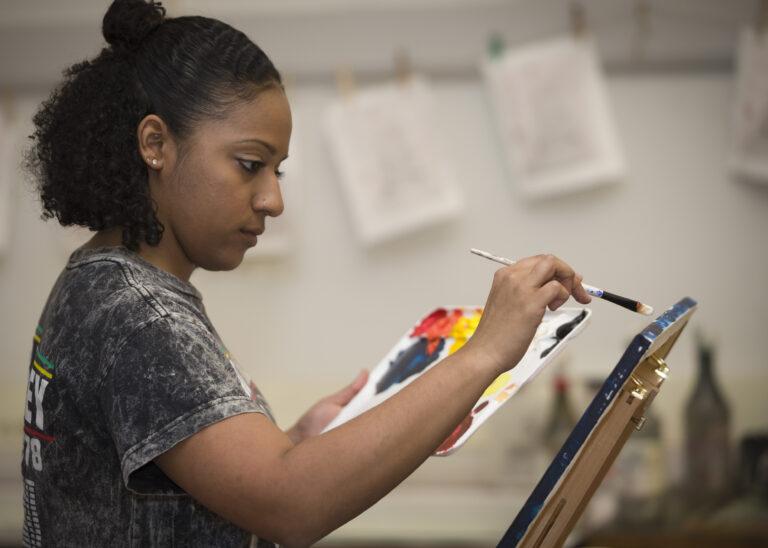 Student Testimonials
"Peter is a detailed teacher and covers the foundations very well."

"Enjoyed learning from a very knowledgeable instructor."
Class Overview
Acrylic painting can provide a lifetime of enjoyment. Learn how to express yourself using the vibrant colors of this delightful paint.
Discover how to use the basic techniques of acrylic painting: blending, texturizing, brush handling, detailing, stippling, glazing, wet in wet, and alla prima. Learn about color mixing, complementary colors, warm and cool, hue, value, intensity, and proportions.
You will be surprised how quickly your skills will improve by observing the instructor and painting along, during step-by-step class presentations. The format will make it easy to get started and build upon what you learn, gaining new techniques and putting them directly into practice. As you develop these skills, you'll find them becoming second nature. Enjoy the satisfying ability to represent the world around you in liquid colors, as you create unique works of art.
Note: Please get your student ID card in order to gain entry to the exterior door of the building when this class is offered in person, see instructions at Seattle Central College Identification Cards. ID center is open Monday – Thursday, 9 am – 3 pm and it may take 2-3 business days to add the building access to your card. Please register and get your card as early as possible.
Supplies Needed
Palette
1 disposable palette pad 9x12" or 12x16" (or paper plates for the first day)
Brushes
Long-handled brushes (white nylon or brown taklon bristles) are preferable – you can use short-handled brushes if you already have them
Rounds: #1 or #2 - (1/16" or 1/32" wide)
Filbert brushes: 2-3 at least
A small and a large: 1/8", 1/4", 3/8", 1/2"
Flat - 1" wide
Angle brush (optional): small - 1/4" wide, or less
Canvases
2-4 canvases in size like 11x14", 12x16", 14x18", or 16x20" – depending on preference and availability (students often like to start with smaller canvases and then go up in canvas size as the class goes on)
One 9x12" watercolor pad, 120 lb for practices and exercises (or 3-5 sheets of watercolor paper
Paints & Colors
Examples of brands, student-grade: Liquitex Basics, Galeria, Grumbacher Academy, Utrecht, Pebeo
Titanium white, any light yellow (examples: Cadmium Yellow Light Hue, Acra or Hansa Yellow Light, Light Yellow, or Lemon Yellow), any medium yellow (Cadmium Yellow Medium Hue, Acra or Hansa Yellow Medium, or Medium Yellow), any medium red: (cadmium red medium hue, Acra or Hansa red medium, or medium Rred), magenta, ultramarine blue, phthalo blue, mars black
Optional Colors (but very useful): any medium orange: (cadmium orange medium hue, Acra or Hansa orange medium, or medium orange), dioxazine purple, phthalo green, burnt sienna, burnt umber
Other items:
Water jars: (glass or plastic, such as peanut butter, yogurt, cottage cheese, etc or large plastic cups or containers
Paper towels
2b or HB pencil
White vinyl eraser (or pink pearl)
Sharpener (preferably with shavings catcher)
Optional: palette knives (plastic or metal)
Learning Objectives
Color mixing: proportions, hue, value, intensity, complementary colors, and warm/cool
Using color schemes to add extra interest to your paintings: monochromatic, analogous, complementary, split complementary, and triadic
Techniques such as blending, texturizing, and detailing; might include stippling, glazing, washes, alla prima, dry brushing, impasto, swirling and dabbing, etc.
Various painting styles such as realistic, impressionistic, abstract, etc.
Ability to paint a variety of subject matter such as animals, plants, landscapes, still life, etc.
Represent 3-dimensional form in painting, in both black and white and in color, by using value, contrast, light, and shadow
Atmospheric perspective makes entire scenes and landscapes appear more 3 dimensional, with the illusion of depth and space
Apply proportion and perspective to your paintings
Who Might Enjoy This Class
Anyone who is interested in enriching their lives with the joy of painting
People who would like to gain or improve their painting skills and apply those skills to paint a variety of subject matter
Anyone who would like to learn to express themselves through the medium of painting
Budding artists who would like to gain the foundational skills of painting to apply to any visual art medium
No experience is needed; everyone is welcome
Class Details
When : Tuesday, Jan 17 to Mar 07 ; 6:45 pm to 8:45 pm
Location : SC0FA , SC - FA - Art Studio - FA0403
Fee : $235
Instructor
When : Thursday, Apr 13 to Jun 15 ; 6:30 pm to 8:45 pm
Location : SC0FA , SC - FA - Art Studio - FA0404
Fee : $265
Instructor