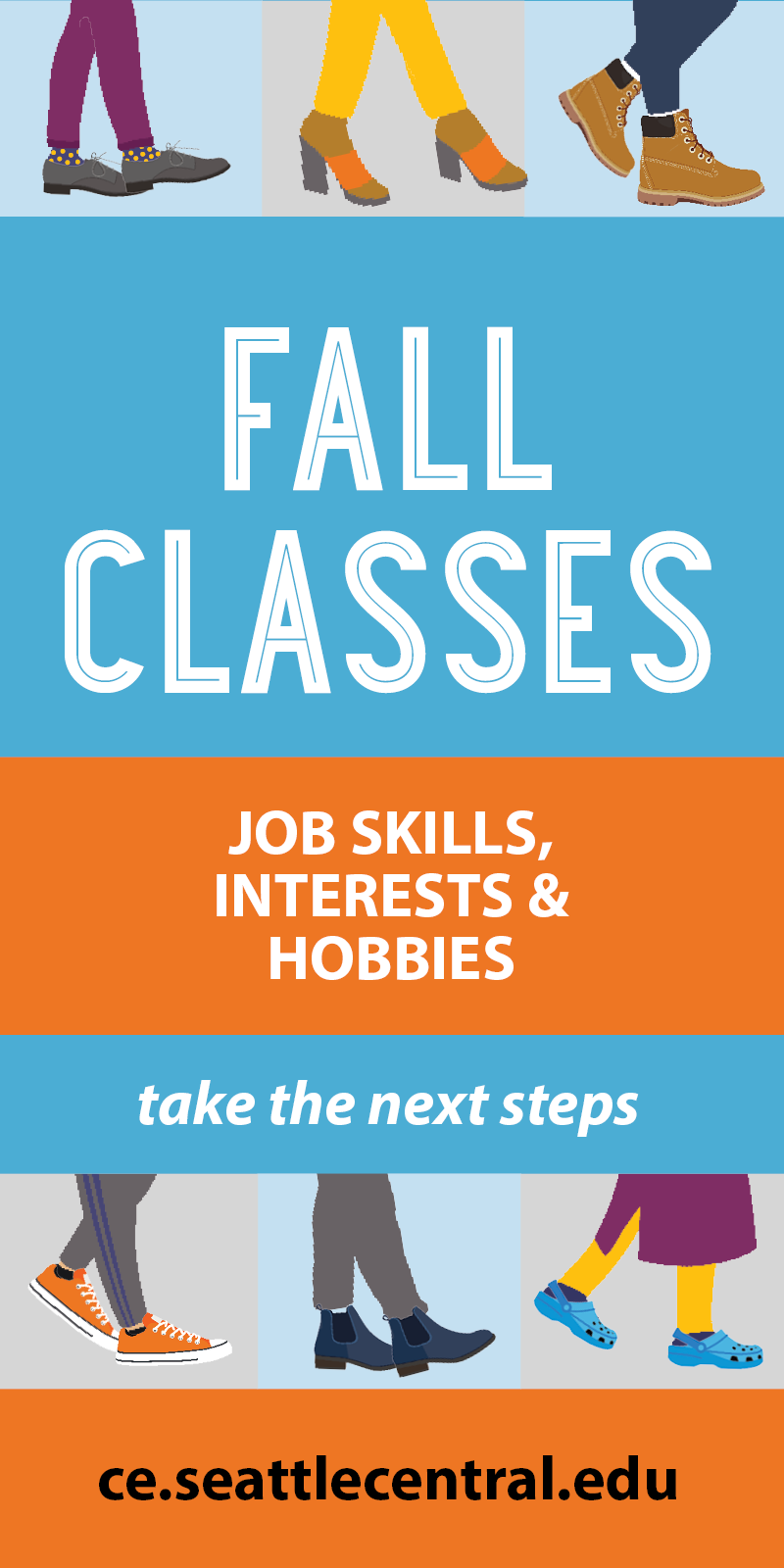 Fall can be a good time to have a bit more focus after the dreamy days of summer. What's next for you?

Take the next steps in job skills, interests and hobbies by taking a class. Most classes are online, though a few will meet in person (such as boating and woodworking) -- find all the details on class web pages. 

Move forward on things that matter to you this fall! See NEW classes and seasonal highlights below, and keep scrolling to see college news. 
---
NEW & SEASONAL CLASSES
Want to advance your JOB SKILLS? Explore classes that can help you move forward professionally in Business & Project Management, Computer Technology, Healthcare, Legal, Marketing & Communication, Teaching, Trades, Medical Marijuana and Certificate Programs. 
Some highlights of exciting fall job skills classes include:

GET CREATIVE in an art class! Highlights for fall include: Drawing from Observation, Holiday Cards in Watercolor, Pet Portraits, How to Exhibit, Market & Sell Art, Make Your Art More of a Business - 22 Practical Steps, Book Publishing Arts - Part 1.

LOVE TAKING PHOTOS? Develop your photography skills this fall. NEW classes: Color Correction in Digital Photography, Use Light in Your Photography and Photo Styling - the Art of Arranging.

BOATERS, anchors aweigh! Boating classes are in person at the beautiful Maritime Academy.
Feel passionate about LANGUAGE, TRAVEL & CULTURE? Go on an adventure in our language & travel classes! New classes (or returning after hiatus) include: American Sign Language-Level 1, American Sign Language - Level 3, Chinese - Level 4, Spanish - Level 5, Japanese Iin Review: Levels 1-4, Japanese - Level 4, Yiddish - Level 7, The Gaels: Consequences of Empire and Translation & Interpretation: Basics (any two languages).

SENIOR & ANY WEEKDAY LEARNERS, explore everything from the inner workings of the breath to the outer realms of the universe in our Senior Series. Highlights include SR- The Art of Breathing & Healthy Movements, SR - 120 Years of Dance in the Movies - Part II and SR - Planets & Life: The Science of Astrobiology.
WRITERS, learn from a published author and enjoy a community of fellow writers in How to Write a Page-Turner and Memoir Writing Workshop, or focus on the business side of writing in Certificate in Grantwriting and Writer's Block.
---
HELLO & GOODBYE: COLLEGE NEWS
As the 2021 academic school year begins for Seattle Central College, Dr. Yoshiko Harden has been chosen as acting president of Seattle Central College as of August 23. Welcome to Dr. Harden! At the same time, we bid farewell with huge appreciation to Dr. Sheila Edwards Lange and wish her the best as chancellor of UW Tacoma. Thank you Dr. Sheila!

Over 200 students graduated from Central in June. Share in the celebration of recent graduates -- a success for the whole community in a tough year.  

Enjoy FREE Return to Campus workshops for the College community. Even though only a few of our classes will be in-person, these workshops are designed to help the community deal with stress and manage the challenges of this time. And two are taught by Continuing Education instructors Joanne Factor and Edna Daigre!
September 1, 2021