Joanne Factor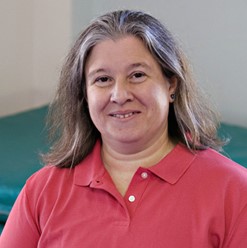 Joanne Factor has been teaching safety and self-defense for almost 30 years.
As owner and instructor at Strategic Living, LLC, Personal Safety and Self-Defense Training, she's taught ages 5 to 75, students and sorority sisters, homeless women and business executives, and everyone in between.
She's worked with middle-age and older women concerned with going out and about, younger women looking to travel and date, health care workers concerned with giving their best while staying safe on home visits, girls off to college, girls navigating high school, middle school girls wanting to baby-sit and take the bus by themselves, female veterans dealing with chronic PTSD, abused women looking to make safer choices, LGBTQ folks wanting to keep our community safer, homeless women, and women in transitional and low-income housing.
Joanne's expertise has been featured on KING 5 TV, KOMO 4 TV, KIRO Channel 7 TV, Q13's Washington's Most Wanted, KUOW 94.9 FM, and The Seattle Times Magazine.
Originally from Brooklyn, New York, Joanne holds a BA from Cornell University, a black belt in karate, and was named Seattle's Best Feminist Butt-Kicker in 2007 by the Seattle Weekly.
She is author of the forthcoming book Self-Defense 101: What Every Woman Absolutely, Positively Needs to Know for Her Own Safety.
Joanne's Teaching Style & Approach
Everyone deserves safety. Everyone should have the opportunity to learn skills to keep themselves safer, to navigate life's waters knowing where your risks may lie, and how to deal with them.
Nobody ever asks to be assaulted. This is an essential premise of this emPOWERment self-defense class! We are inclusive, and welcome all who are self-identified women and older teen girls, LGBTQ+, and non-binary.
This class is about 40% simple yet highly effective physical fighting skills. These are the skills you hope you never have to use, but just knowing you have them at the ready can give you the confidence to use your other critical skills such as recognizing red flags and using your voice to set a healthy boundary.
All skills can be modified to work for anyone, regardless of ability and experience.
Student Testimonials
"Thanks to Joanne, I now feel more confident in myself. I enjoyed learning how to use physical defense skills, as well as learning how to avoid needing to do so."
"Our instructor Joanne Factor is a real expert in her field. It is obvious she has years and years of training, teaching and sharing her skills with the community. I found her to be very tactful and progressive in her teaching about rape. Her curriculum was well developed and the teaching materials she provided were clear and uncomplicated. It was also nice to be able to practice our skills/knowledge in each class (the repetition was helpful). I wish every female I know could take this class!"
"Even though our class was over zoom, the meetings with Joanne were really informative and important. I now can use my voice and body language to get out of situation I do not want to be in. I am confident because I now have plans, a "blueprint," which will help me de-escalate potentially violent situations, set boundaries with family, friends and strangers and help people who are those situations. I really enjoyed this class. Thanks to Joanne I now feel more confident in myself."
Video of Instructor Joanne Factor on King 5
Joanne's Resources
Classes