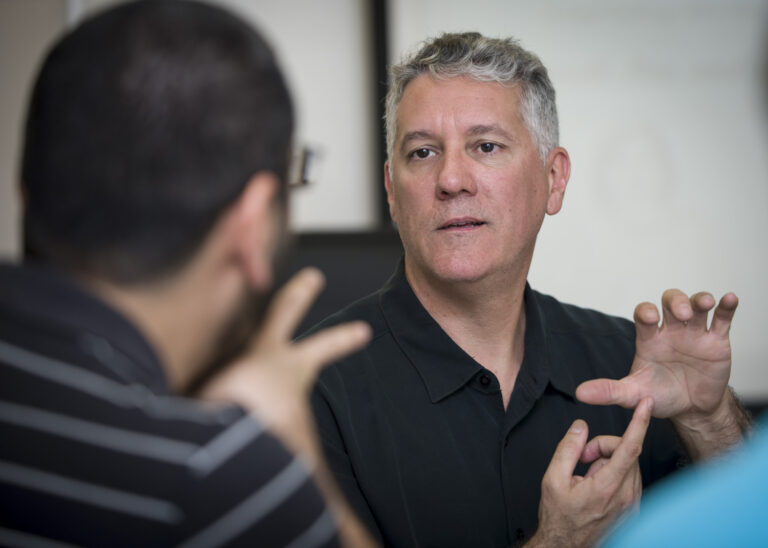 Class Overview
Practice American Sign Language and improve your skills. During this intermediate class, expand your American Sign Language vocabulary and cultural skills in order to communicate more effectively.
Continue building upon the American Sign Language skills that you learned in our Level 2 course (or comparable level). Improve your understanding of narrative structure and movement agreement, including positions and actions. Explore role shift variations and types of classifiers in themes like incidents with the use of vehicles, dialogues about money and transactions, and explaining game rules.
Enjoy being a part of a community of learners while improving your ASL communication skills!
Learning Outcomes
Upon successful completion, learners should be able to understand, identify, and express:
targeted, context-specific commands, questions, and statements in American Sign Language
a broader base of ASL vocabulary including daily activities, physical and personality descriptions, time, age, number signs and ASL idioms
appropriate use of ASL grammar including classifiers and spatial organization
general historical, etymological, linguistic and cultural aspects of ASL and American Deaf community
Who Should Take This Class?
Students who have previously completed our Level 2 class
Anyone with intermediate American Sign Language skills, including comfort with fingerspelling and basic signs
Class Details
No class on 11/27. This class is held online by videoconferencing. It is led by an instructor(s) in real-time as an interactive class experience. To attend and participate fully you will need access to a computer or device with video and a microphone, plus high-speed internet connection. Instructions to access the class will be emailed to you by the instructor or staff member before the class begins. Note: part of this class might be recorded, for the students and instructor to use for review only; recordings will be deleted after the end of the quarter.
10 Saturdays ; Oct 02 to Dec 11 ; 12:30 pm to 2:30 pm

Location : SCONL; Room Online

Fee : $269
Class ID : 38785 ; SKU : 30080
Instructor