Explore the World: Spring Classes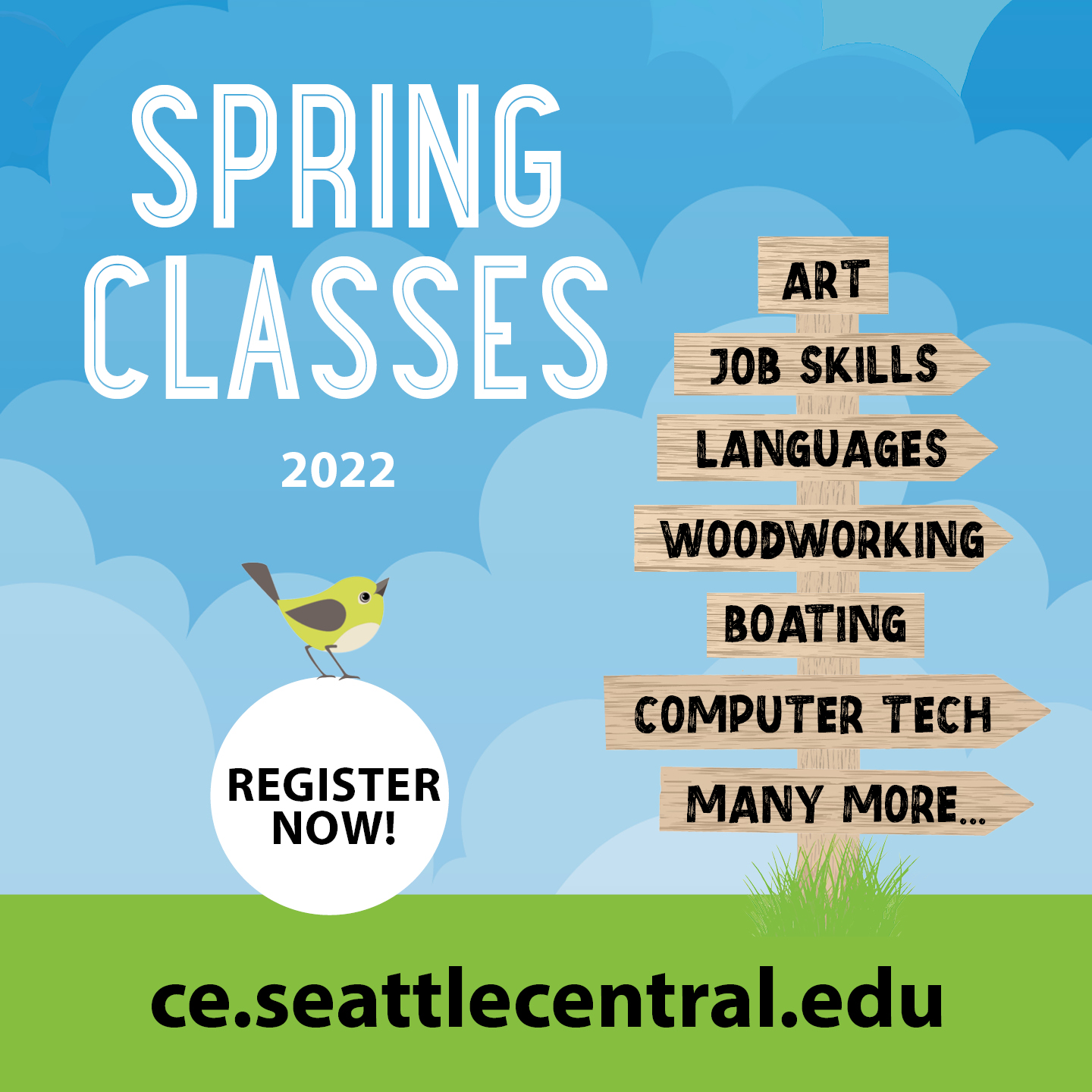 Spring is the season of fresh air and new beginnings. As we hit the two year mark of the pandemic, it seems like everyone could use a change of pace, new possibilities, and some inspiration.
Taking a class is like going on a little adventure. Choose from a wide variety of topics and options to explore, from language & travel, to art, science, technology, job skills, and more. Discover, or re-discover, favorite hobbies, develop new skills, and gain knowledge to enrich your life with new opportunities.
Most classes are online and begin in April. We offer community classes in real-time via videoconferencing, along with many self-guided classes to do on your own schedule. Boating, woodworking and a few others will be meeting in person, so be sure to check details for each class. 
Enjoy your journey in life and explore the world one class at a time!
 
                   New & Seasonal Classes


 
Learn all the basics of woodworking in this rewarding hands-on class. Gain skills using tools safely while building a stool that you can take home. Register for this popular class before it fills! Starts Monday, April 4.
Would you like to create interactive, real-time, 3D experiences? Develop your own games or apps in extended reality! To get started, learn about operating systems and development environments in this first class of our NEW Unity User: Programmer certificate program. 
Deepen your yoga practice and get certified to share your love of yoga with others! This rewarding intensive yoga teacher training program is all online. 
Ready to be your own boss? Workshop your business idea and develop the basic tools of starting a business plan in this hands-on class.
Put your voice to work! Learn how you can use your own speaking voice for commercials, films, videos, and other presentations, and break into the creative, fulfilling, and potentially lucrative voice over industry. 
Gain experience using a practical approach to project management that can be applied immediately to your workplace; choose from two options Fridays (once/week, Apr-Dec) or evenings (twice/week, Apr-Aug). 
Learn project management basics from a pro! These skills are essential in a wide variety of professional roles, and can also be a huge asset in your personal life. 
Enjoy watching spectacular dances in old and new movies, and explore the fascinating ideas that are reflected about society, while enjoying the beauty and entertainment.
Bilingual? Put your language expertise to work! Learn how to become a professional translator or interpreter in our career training program. Find out more about this career and program in a FREE Info Session on April 4.
As we stand on the verge of discovering habitable worlds elsewhere in the galaxy, learn what is known about how planets form and become capable of hosting living ecosystems. 
Have you ever admired travel photos and wondered why yours are not as good? You can take/make wonderful photos with good preparation and creative thinking while on the road (or in your neighborhood). 
Learn how to grow food indoors in your home (or for your business) with hydroponics. 
Develop modern skills to capture, analyze and display geographic data, across sectors such as disaster risk reduction, forest planning, construction, urban growth, food security, real estate, or business. 
Gain the drafting and design skills for today's workplace! Prepare for entry level positions, or if you already have experience with AutoCAD, dig deeper into the software to advance your career.
_____________________________________