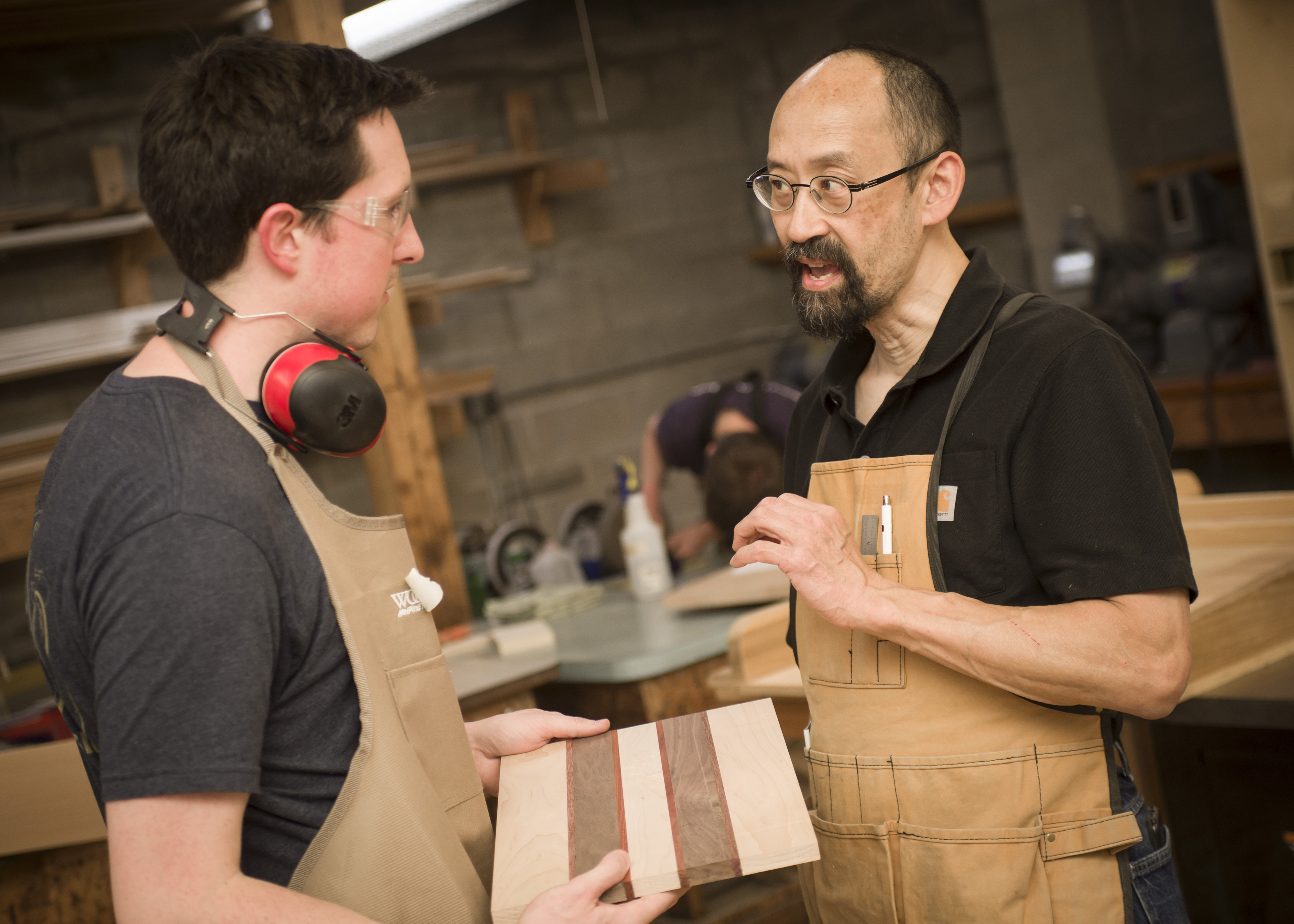 Class Overview
Learn all about the basics of woodworking in this rewarding hands-on class!
You will learn how to use the main hand tools and power tools in the shop, as well as the important safety rules when using the equipment. Then you will practice on the equipment and make a three-legged stool while being guided at each step of designing, building and finishing your project.
Discover joinery techniques, the importance of sharp tools, when to use different kinds of fasteners and adhesives, and basic methods of wood finishing.
The goal of the class is for students to gain confidence on the equipment so that they can work independently in the shop. This class is a prerequisite for Woodworking II and mandatory for using the woodshop during open studio time.
Week 1: Please bring a notebook and pencil to first class.
Weeks 2-10: Students will be required to bring their own Personal Protection Equipment (safety glasses, hearing protection) for all remaining classes.
In this class, you will learn:
shop safety, including personal protection in the wood shop
the properties of wood and how that informs the selection and milling of lumber
how to properly use hand tools (hand saw, block plane, chisel and hammer) and power tools (hand drill, router, drill press and table, miter and band saws).
We'll also focus on joinery techniques, the importance of sharp tools, when to use different kinds of fasteners and adhesives, and basic methods of wood finishing.
Learning Outcomes
Learn about the basics of woodworking
Explore the different tools used and learn how to use them safely
Create a class project
Who Should Take This Class?
Students who would like to learn the basics of woodworking
Anyone interested in gaining experience with woodworking tools
Class Details
Woodworking classes will be in-person at the beautiful Wood Technology Center located at: 2310 S. Lane St, Seattle, WA 98144. The first session is at a classroom, and the rest of the sessions are at the Core Shop. No class on 1/17 and 2/21.
Seattle Central Requires COVID-19 Vaccines and Masks for Students & Staff
Seattle Colleges will be a fully vaccinated higher education institution in accordance with Gov. Jay Inslee's recent COVID-19 Proclamations. The decision comes after consultation with the board of trustees, health and safety officials, and labor partners.
Full vaccinations are required for students, staff, and faculty coming to campus this fall, with exemptions for medical or religious reasons. This allows the colleges to reopen and return to in-person teaching and learning, to the fullest extent possible, while safeguarding against transmission of COVID-19 and its variants.
In accordance with Washington State guidelines for the college, everyone attending in-person classes is also required to wear a face mask inside buildings, to help prevent the spread of COVID-19.
In addition, everyone who comes to an in-person class (Capitol Hill, Wood Technology Center, Seattle Maritime Academy and Georgetown) will be required to complete a daily health screening questionnaire each day that you visit. Please take time to review the COVID Procedures: https://www.seattlecolleges.edu/coronavirus/current-covid-19-procedures.
10 Mondays ; Jan 10 to Mar 28 ; 6:00 pm to 9:00 pm
Fee : $795
Class ID : 38876 ; SKU : 34237
Instructor