Who's Who On Our Fall Brochure Cover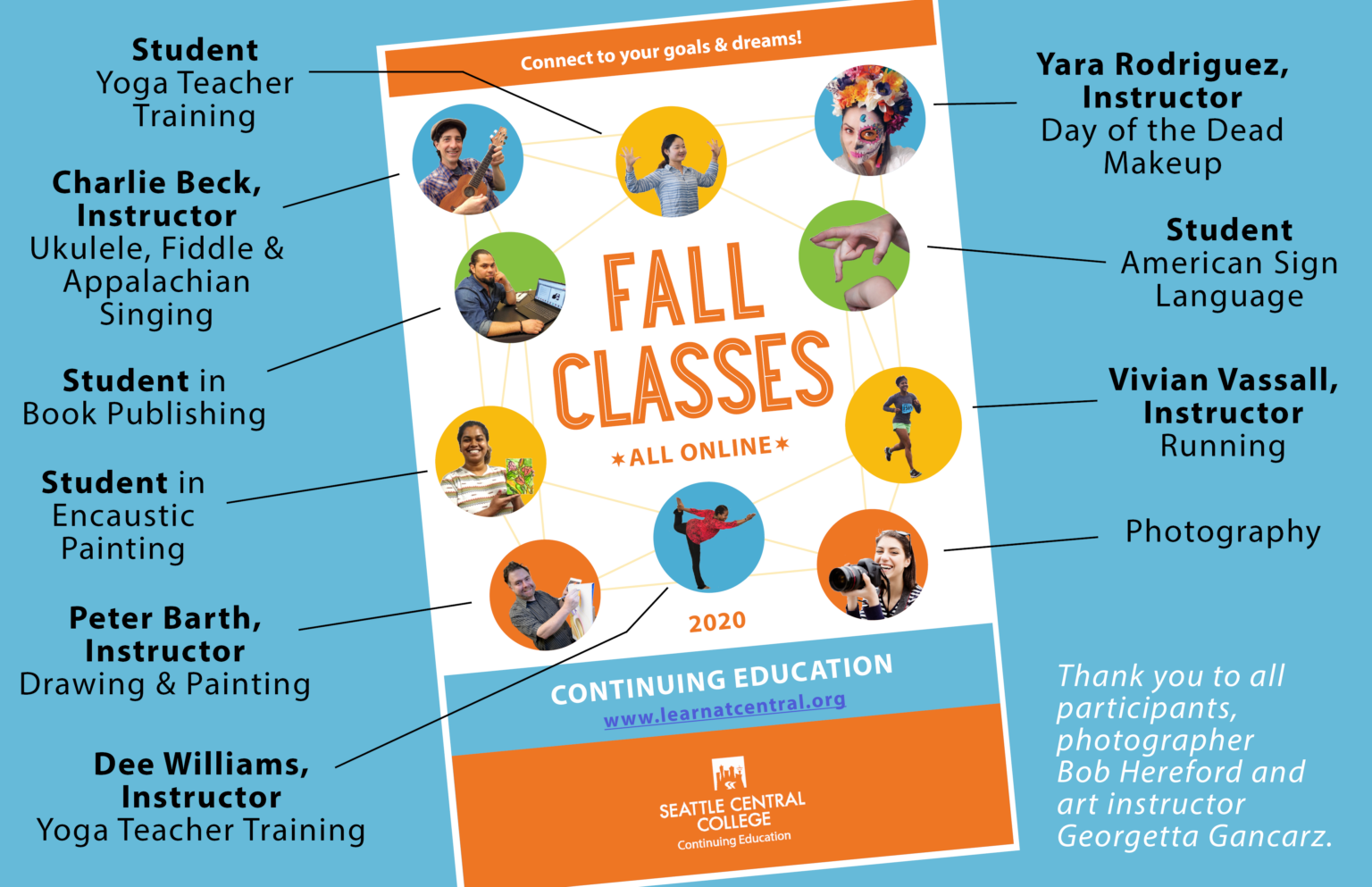 Have you been wondering "Who are those beautiful people in the little circles?" Now's your chance to find out!
Charlie Beck
Read about Charlie and check out his classes for fall:
Appalachian Singing
Old Time Fiddle for Beginners
Old Time Fiddle – Intermediate
Ukulele for Beginners
Ukulele – Intermediate
Book Publishing Student
This student published a book through Georgetta Gancarz's Book Publishing Arts series - congratulations, Omar! Read about Georgetta and check out our related classes for fall:
Visual Arts
Design and Photography
Writing
Encaustic Painting Student
This student created her beautiful piece of art in Georgetta Gancarz's Encaustic Painting class. Read about Georgetta and her classes for fall:
Abstract Painting
Book Publishing Arts – Part 1
Cold Wax and Encaustic Painting
Painting for Everyone
Painting Portraits of Color
Palette Knife Painting
Painting & Drawing Instructor Peter Barth
Read about Peter and check out his classes for fall:
Drawing – Beginning
Drawing – Intermediate
Acrylic Painting – Beginning
Acrylic Painting – Intermediate
Cartooning and Caricatures
Fantasy Illustration: Creatures and Characters
Zoological Illustration
Dee Williams
Read about Dee and learn more about her fall training:
Yoga Teacher Training – 200 Hour Certification
Student in Yoga Teacher Training
This student brings to life the Yoga Teacher Training – 200 Hour Certification course and represents our diverse selection of fitness, movement, health and wellness classes for fall.
Instructor Yara Rodriguez
See her class for fall:
Day of the Dead Makeup and Flower Crowns
American Sign Language Students
Take a look at our ASL courses for fall:
American Sign Language – Level 1
American Sign Language – Level 2
Brain Fitness with American Sign Language - part of our Senior Series
Essential ASL Skills for Volunteer Work
Or explore all of our language classes.
Instructor Vivian Vassall
Read about Vivian and check out her classes for fall:
Run Your First 5K
Run Your First Half Marathon
Run Your First Marathon
Photography Classes
Stock photo of a photographer! Is that fitting or weird? Anyway, check out our real-time photography classes you can take via video conferencing:
Beginning Black and White Film Development
Designing the Compelling Photograph
Focus on Composition in Photography
Focus On Nature and Conservation Photography
Turn Your Art Into Greeting Cards – and Sell Them
... and take a look at the full list, including self-paced classes.
THANK YOU to all participants and photographers! Special thanks to photographer Bob Hereford and art instructor Georgetta Gancarz (who took several photos) -- as well as ALL of our instructors and students for making these classes possible.