Georgetta Gancarz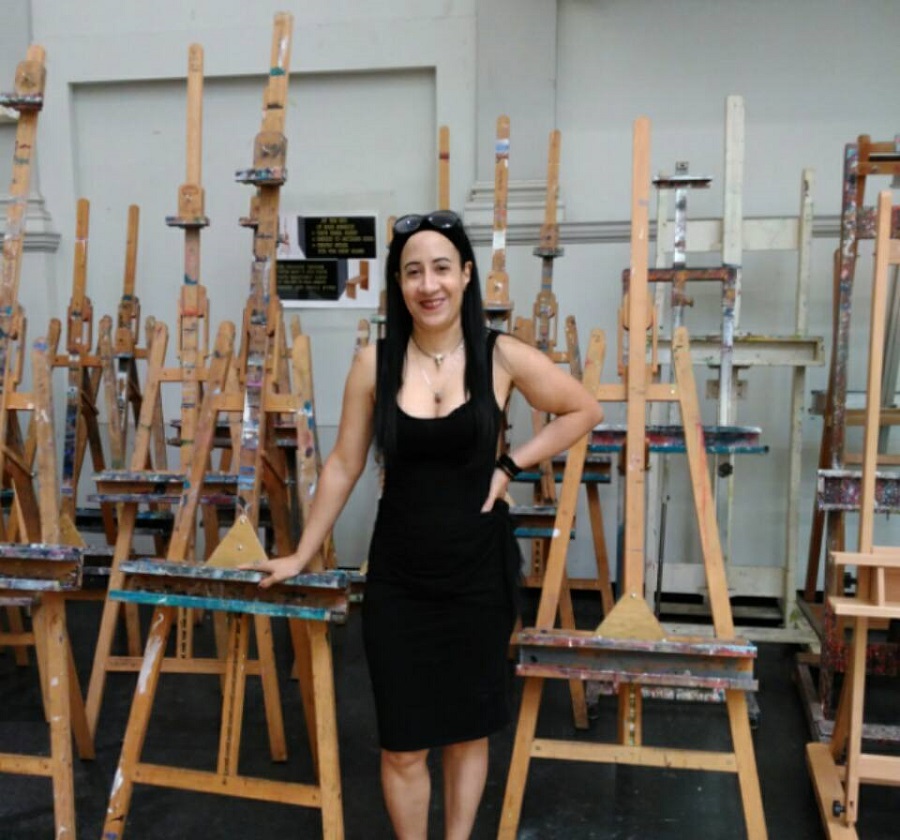 Georgetta Gancarz graduated from the School of Visual Arts and Fordham University. She has degrees in art, science, and education with a minor in art therapy. She has been teaching for over 35 years globally, and specializes in painting, printmaking, art history, marketing, and publishing arts.
Georgetta is a professional multi-disciplinary artist, professor, author, and international travel guide. She has received various art, scholarships, fellowships, and instructor awards.
Georgetta works with various populations including professional and emerging artists of all ages and genders, diverse socioeconomic, ethnic, racial, and cultural backgrounds, LGBTQ2SIA, veterans, and people with disabilities.
She has curated US and European exhibitions, serves as a faculty advisor for Cooperative Education, and teaches credit, non-credit and certificate classes. She has worked with Humanities, Continuing Education, and International Departments. She has certificates in Business Arts, Arts Leadership, International Education, Global Studies and Security, Anti-Bias, Professional Growth and Development, Washington State Training and Registry Programs, Printmaking, Jewelry Design, Batik, Encaustics, and eight years of international training in Florence, Italy, in Fine Arts and Curriculum Design.
Georgetta has been featured on television, in books and newspapers and her paintings have been exhibited worldwide including at the Metropolitan Museum of Art Museum in New York City. She has paintings in many private and public collections worldwide, including:
Santiago Germenia Profeta e Santa Lucia Vergine e Martire -- Venice, Italy
Basilica Di S. Lorenzo -- Florence, Italy
Convento del Servi do Maria S.S. Annunziata -- Florence, Italy
Italian American Museum -- New York City, USA
Saint James Cathedral -- Seattle, USA
As the founding director and creator of the ART - POLI Painting on Location International® Academy and program, with art history, studio, and humanities classes offered in the USA, Canada, Europe, Asia, Africa, Australia, New Zealand, and South America.
To date, Georgetta has written 20 books and is working on her 21st. Her books are available online and in libraries (see links below). In 2018, Georgetta developed her own publishing house, program, and residency to not only support her own publishing, but to encourage students to write and create books in multiple languages. 
Georgetta loves teaching and enjoys seeing her student's progress. She tells her students, "education, passion, and hard work are the keys to success."
Georgetta's Teaching Style & Approach
Georgetta works with students in a supportive, energetic, and friendly, but professional, manner. She wants students to feel comfortable and positive when learning, so they can have the freedom to create and express themselves.
She creates a classroom dynamic based on acceptance, support, and growth through exploration and knowledge. She explains, "I believe good learning happens when you captivate the students and listen to their needs." Georgetta wants students to take the knowledge they receive in her classes and apply in their own way to their artwork. She says, "This makes the student a bit of a creative leader themselves."
Teaching several classes each quarter, she feels like the classroom is a second home. Therefore, Georgetta keeps the space clean and organized, but fun and creative. She wants students to feel like it is their home too. Respect for the art studio and materials are important -- this means keeping the workspace clean and safe.
Georgetta offers students a materials list and handouts that describe what to look for in a good quality paint, brushes, and canvas. She does classroom demonstrations with materials, so students can see and understand the results of different supplies and techniques.
In her classes, Georgetta offers detailed instructions to guide students of all levels, from beginning to advanced. As a prolific book author on the subject of art, she provides supplemental materials from her own books as a part of the class for student learning.
She says, "I'm looking forward to seeing you in my classes, helping you create your vision, or move your process to the next level."
See a blog story featuring Georgetta's career on her 20th teaching anniversary, and find her current classes at the bottom of this page.
Georgetta's Resources
Georgetta's Books
Instructor's Video
Student Video
Student Video
Student Video
Student Testimonials
"Georgetta is an amazing instructor! She's very resourceful, supportive and enthusiastic. All of this provides a beginning student with a great sense of comfort."

"I was fortunate to have gone to some of the finest schools and had some of the world's finest instructors. But Georgetta still stands out as one of the best I've taken lessons from."

"Georgetta's broad knowledge and ability to teach different skill levels really helped me expand my painting skills."

"My favorite part of taking the class was the opportunity to learn from Professor Gancarz."

"The teacher is very encouraging and supportive."

"Instructor had great assignments, provided feedback and suggestions to everyone equally, and is fun."

"She's one fantastic instructor!"

I enjoyed..."the opportunity to start from the very beginning with no experience, with a patient instructor. She was amazing!"

"You are an extraordinary teacher!!! I was hesitant to take your class as I never considered myself artistic. Your patience, guidance and encouragement helped me accomplish some great art!"

"Thank you for your dedication to education, Georgetta!! You are amazing."

"Georgetta Gancarz is great! Lots of knowledge and energy and sweet attitude!"

"Georgetta gives personal attention to help you create the paintings you want, as well as offers up good side information about the art world in general."

"Wonderful, dedicated teacher. Fun class."

"I love the way you see the little embers within us all & artfully reanimate our unique fires."
Classes