Celebrating 20 Years of Teaching Art: An Interview with Georgetta Gancarz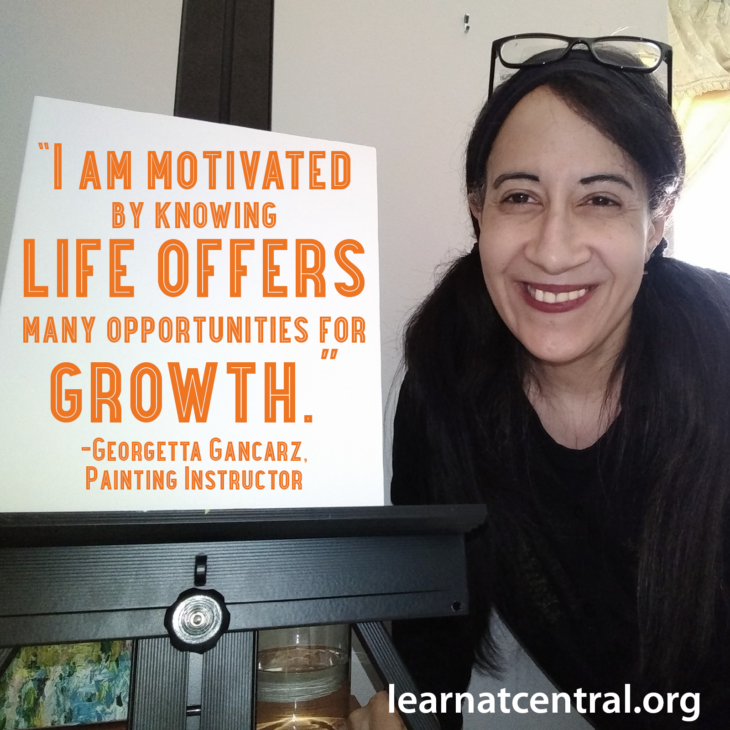 Art instructor Georgetta Gancarz has been teaching with us for 20 YEARS. Incredible!
She teaches several painting classes each quarter and has helped countless students learn to paint, express themselves and see the world through an artistic lens. Her class reviews describe her as a supportive, patient, encouraging, knowledgeable teacher and use words such as "extraordinary," "amazing" and "fantastic." The proof is in the pudding: see student paintings from winter classes. She also has transferred quite a bit of her knowledge into a series of books that she uses for instruction in her classes.
Her cumulative impact has been an impressive force of good in the world. Read on to learn about her experience teaching, what inspires her and the importance of homemade ravioli.
Q. Georgetta! Tell us about your teaching background.
A. I started teaching in the 80's during college on the East Coast. I started as an assistant art teacher, then an art director, then an international faculty leader...then I came to Seattle Central College in 2000.
Q. What are you most proud of in your 20-year career teaching here at Seattle Central College?
A. Two things: teaching students in my painting classes to become working artists by selling and exhibiting their work. And giving students travel opportunities to see art history in different areas of the world, and a voice through writing their first book.
Q. What has been most challenging and how have you dealt with that?
A. Teaching artists who lost their cognitive abilities how to paint again through art therapy. Also, creating and designing a chart for color blind students.
Q. What motivates/inspires you? 
A. I am motivated by knowing life offers so many opportunities for growth. I am inspired by the world...art, people and nature. When I teach, it is never about me, but my students. I focus on how to make others feel good and that makes me feel great.
Q. Do you have a creative muse?
A. My creative muse besides painting and writing is definitely cooking big meals. Homemade pasta, ravioli, pierogi, stews, sauces and cannoli. I love making everything from scratch.
Q. What brings you joy?
A. Seeing students grasp class material and become leaders by creating goals for themselves.
Q. Do you have any advice for an aspiring artist or art student who'd like to learn how to paint really well?
A. Take my class! Lol. 
 Seriously... Read. Read lots of art books. Learn to see color, shape, form and lines. Give yourself assignments and challenge your skills. Go to museums and art exhibitions. Most of all, paint as much as you can and get your creativity from what inspires you.
Q. Anything else you'd like to share?
A. A good education is important. It should embrace leadership, self-esteem and creativity. Our campus has a great community of students and faculty. There is passion in every classroom.
We are grateful to Georgetta Gancarz for her enormous dedication to teaching, for sharing her skills and talents, and for inspiring many people with her passion for art.
Thank you, Georgetta for your immense contributions to our community.