All the News with Continuing Education: Fall 2023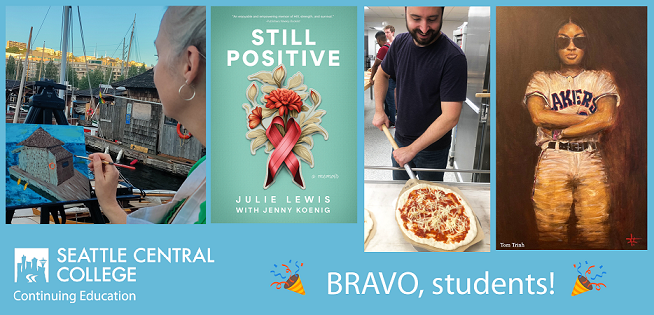 Summer was a busy and exciting time around here! Let's pause a moment for gushing and say we are proud of ALL of our students and instructors. BRAVO!! Look at what wonderful things folks have been up to:
New Chancellor
Dr. Rosie Rimando-Chareunsaup was appointed the

new chancellor of Seattle Colleges

. She had recently been the interim chancellor and before that was the president at South Seattle Colleges. Welcome Dr. Rosie! 
Happy Food News
Get ready for

food trucks

! They'll be on the main Central campus on Capitol Hill on Wednesdays for lunch.
Good news from the Culinary Academy "All three of our restaurants – Square One Bistro, One World Restaurant, and The Buzz café - will resume service in October." Yum. Have you tried the pastries at the café? Or hot lunch at the Bistro or restaurant? Pretty fancy and delicious food for relatively good prices. Check out their

days and hours

.  
Fall Classes
As the days get darker and the cozy sweaters come out, we invite you to take a class and build skills to help you live your best life. You can see fall highlights on our blog. If you haven't registered and want to see what is still available, check out our classes by date. 
 
"Autumn is a second spring when every leaf is a flower." - Albert Camus
Have a fabulous fall!