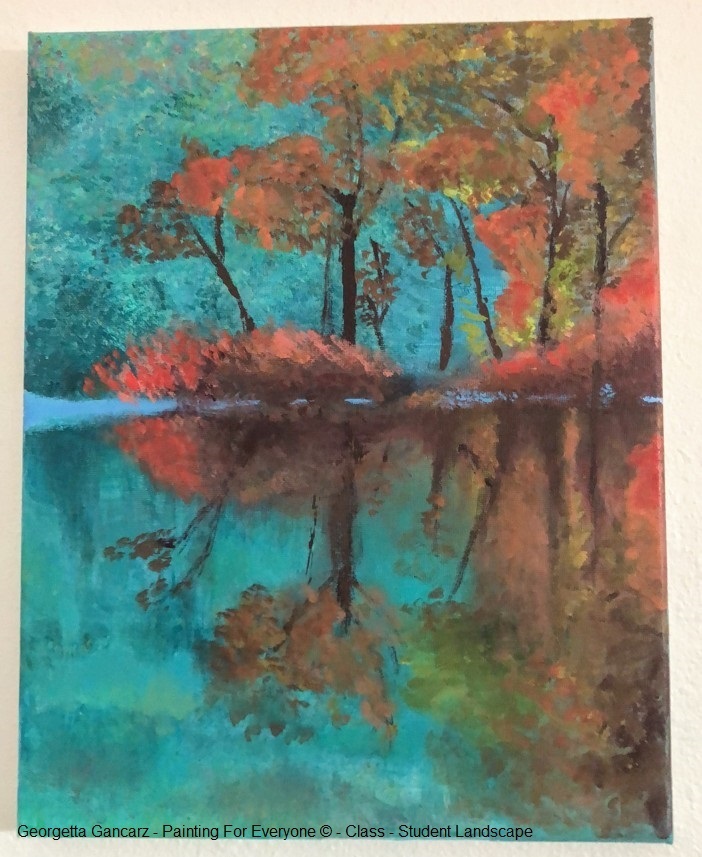 Student Testimonials
"Wonderful dedicated teacher. Fun class."

"Enjoyed personal attention from instructor, fun environment."

"Georgetta gives personal attention to help you create the paintings you want, as well as offers up good side information about the art world in general."

"Liked the ability to explore a new style of painting and tools."

"Georgetta is very knowledgeable and makes sure she takes time to give everyone individual coaching. She's also a fountain of information and I really enjoy when she shares her knowledge on various art topics. She's interesting and makes art exciting."
Class Overview
Do you admire the paintings of the Impressionists? Learn their unique brushstrokes and methods to make your own beautiful paintings with step-by-step guidance from a professional artist. 
Discover how lines of color can make a complete and memorable painting. Explore textures, color theory, the impressionist color wheel, composition, space, light and shadow, texture and movement. 
Immerse yourself in summer landscapes, figures and still lives, and explore originality. Learn about tools, materials and techniques. Enjoy class discussions about art history and impressionist artists.
Create your own unique painting masterpieces. No painting experience or formal art training is needed, just a willingness to learn.
Your painting instructor is a professional teacher and working artist in both the US and Italy, who has exhibited in museums and galleries worldwide.
Supplies Needed
Click here to see the supply list.
Learning Objectives
Understand the tools and techniques to paint in the style of the Impressionist painters. 
Apply texture and impressionist colors to your paintings for personal expression. 
Use observation, linear perspective, and originality to explore composition, color, space, light and shadow in textures. 
Express different ways to observe and document art by developing an art vocabulary. 
Understand art as a form of personal expression.
Create a unique finished painting using the impressionist style.
Who Might Enjoy This Class
Anyone who wants to learn how to paint.
Painting students or painters who would like to improve their painting skills. 
People interested in Impressionist painting and would like to learn to paint in this style.   
Class Details
When : Tuesday, Jan 16 to Mar 05 ; 6:30 pm to 8:30 pm
Location : SC0FA , SC - FA - Art Studio - FA0402 , 801 E. Pine St. Seattle WA 98122
Fee : $239
Instructor