Instructor Spotlight: Ann Hedreen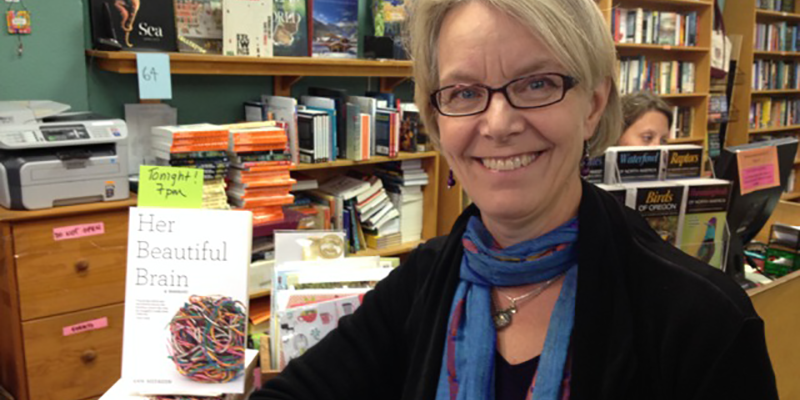 Make Your Story Shine
We all have a story to tell -- for some of us, it might be a highly inventive creative novel exploring the nature of reality, while for others it's an equally creative retelling of our unique personal experiences.
Learning how to frame your personal history into a memoir can be helpful, even if you have no intention of publishing it. The process can help you gain new insights into your past, revealing perspectives and lessons that you may not have considered before.
For the past several years, talented author and filmmaker Ann Hedreen has been sharing her expertise with students at Seattle Central's Continuing Education program. 
Her highly popular Introduction to Memoir Writing course is offered twice a year and often waitlisted!
Learn more about Ann's background and if you can't get into this quarter's class, please bookmark it and join us in the future.
How long have you been teaching?
I have been teaching at Seattle Central since 2012.
What's your educational & professional background?
I am a writer and documentary filmmaker. 
I earned my M.F.A. in creative writing at Goddard College and my B.A. at Wellesley College, and I began my career at the City News Bureau of Chicago. I'm an alumna of the Hedgebrook center for women writers and a member of Women in Film Seattle.
My memoir, Her Beautiful Brain, won a 2016 Next Generation Indie book award and my blog, The Restless Nest, won an honorable mention from the National Society of Newspaper Columnists. My writing has appeared in 3rd Act Magazine, The Wall Street Journal, Seattle Metropolitan Magazine, the Seattle Times and other publications.
I've also won many Emmys and other filmmaking honors, including Women in Film's Nell Shipman award for Best Documentary, awarded to Quick Brown Fox: an Alzheimer's Story. My most recent documentary, set in Peru, is Zona Intangible. My husband and I also make many short films for non-profits through our small production company, White Noise Productions.
I am a Seattle native and have been a frequent volunteer tutor for Horn of Africa Services and in the Seattle Public Schools.
I'm currently working on a second memoir, The Observant Doubter.
What's your most inspirational teaching or learning moment?
When I was at Wellesley, my campus job was waitressing in the fancy College Club. Very old-school: I wore a blue dress and a white apron.
One night the writer James Baldwin came to give a talk, and I waited on his dinner table. After the meal, I could not resist the urge to break the rules and speak directly to him. I blurted something about how his writing had moved me so much, and I shook his hand.
What I remember is the way he looked right into my eyes, listened attentively to my clumsy words, and then thanked me in a simple but heartfelt way. I was entranced. It was the first time I had ever met an author, let alone one I so admired.
I remember thinking: I want to be like James Baldwin. I want to listen and observe as intently as he does, and then write about what I hear and see. I may never write as beautifully as he does, but I will try.
What do you enjoy the most about teaching your classes at Seattle Central?
I love watching inspiration strike and confidence grow.
I also love listening to students share their work, especially the ones who weren't sure on Night One that they would ever have something to share.
What other life experiences do you have that influence what and how you teach?
So much of my day job (making documentaries and short films for non-profits) involves listening to people tell their stories, and that has had a huge influence on me.
I've seen first-hand, many times, how meaningful and powerful it can be to tell your story.
Ann's Favorites
Book
Somewhere Near the End by Diana Athill (currently, but this can change!)
Hobbies
Movie
Music
First Aid Kit's cover of "America" by Paul Simon (this can also change!)
Seattle Restaurant
The Virginia Inn - since 1980-something!
Travel
Mexico City: There is art and music and beauty around every corner.