Ann Hedreen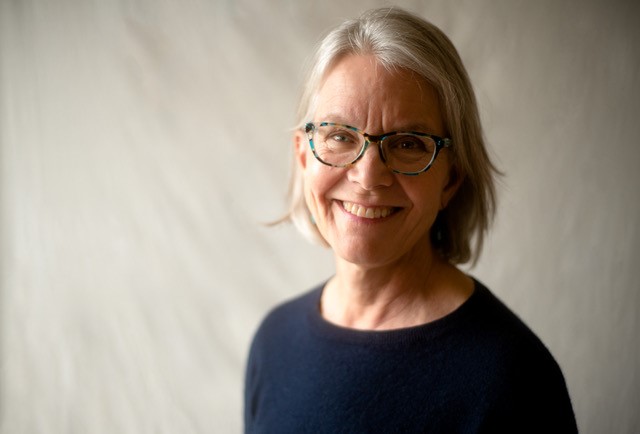 Ann Hedreen is a writer, filmmaker, and teacher.
Her memoir, Her Beautiful Brain, won a 2016 Next Generation Indie book award and her blog, The Restless Nest, won an honorable mention from the National Society of Newspaper Columnists. Her writing has also appeared in 3rd Act Magazine, About Place Journal, the Seattle Times and other publications.
Ann has won many Emmys and other filmmaking honors, including Women in Film's Nell Shipman award for Best Documentary, awarded to Quick Brown Fox: An Alzheimer's Story.
She and her husband, Rustin Thompson, make short films and documentaries through their small company, White Noise Productions.
Ann earned her M.F.A. in creative writing from Goddard College and her B.A. at Wellesley College. She teaches memoir writing at Seattle Central College, Hugo House and elsewhere.
A Seattle native, she is an alumna of the Hedgebrook center for women writers. Ann is currently at work on a book of essays.
Ann's Teaching Style & Approach

Q: How do you present material to students?
A: I love to share short passages from writers I admire and talk about what we can learn from their work and how we can apply it in our own writing.
I want students to feel inspired, not intimidated, by good prose. I believe that if you have a story to tell, you can tell it. You can write it.
There are simple ways to get started -- memoir 'building blocks' -- and we'll give some of them a try in class so that when you go home, you're ready to write more.
I also believe students of all levels can learn by listening intently to each other.
Q: How you interact and work with students?
A: At the beginning of class, we do quick (voluntary) check-ins regarding how everyone's writing has been going and/or what they're reading that they would recommend to other students.
If time permits, a few writers may share a short passage of their writing with the class. Then we turn to that week's theme.
I read something short by a great writer, we talk about it, and I give a prompt for 20 minutes of in-class writing. Afterward, students share if they wish, and we discuss.
But the 90 minutes of class time always fly by, which is why I also meet one-on-one with each student once during the quarter for a critique of their work and/or a conversation about their writing goals and challenges.
Q: What kind of classroom dynamic do you promote?
A: I arrange desks in a semi-circle and, on the first night, students introduce themselves and talk about why they're taking the class. I want them to know a little bit about each other and to feel that the class is a conversation. I want both advanced writers and total beginners to feel welcome and respected.
Memoir writing can be intense, funny, sad and powerful all at once -- and to experience this together in the same room with other writers can be unforgettable.
Ann's Resources
Student Reviews
Ann is such a knowledgeable and thoughtful teacher. Loved doing the class on Zoom. Learned a lot from the others in our class too.

Ann is a master teacher. This was the second time I have taken this class with her. Excellent instruction, feedback. Just the right balance between inspiring, stretching and supporting.

The instructor is knowledgeable, kind, and organized. Great info and wonderful feedback.

Ann is an insightful and creative teacher.

This is the 3rd class I have taken from Ann and each one of them inspired me to try some writing and topics that I was afraid to tackle. I especially appreciate her private one-on-one sessions. Great help to me.

I appreciate how Ann built the course through themes and topics giving specific examples and readings that helped me integrate the material into our writing.

Ann gave us thought-provoking, creative exercises every week that inspired and encouraged us.
Classes