Instructor Andrew Edmonds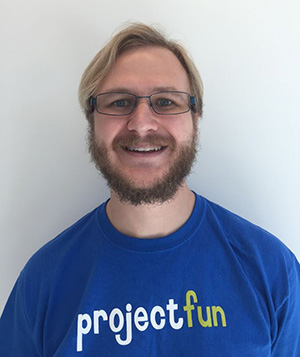 Andrew Edmonds is an experienced programmer, game developer, and educator. He has a Bachelor of Science in Computer Science from Washburn University and is a Unity Certified Programmer and Instructor.
After college, Andrew worked as a software engineer for the Kansas State Legislature for three years before spending the next five years teaching high school kids how to write code and make video games. As a teacher, he helped many young aspiring game developers achieve beyond what they ever thought possible, including winning the SkillsUSA National Championship for video game development in 2019 with a virtual reality game made in Unity.
Andrew lives in Washington with his wife Jessica and daughters Alice and Ada, and is the co-founder of Team Tree Games and Pharaoh Training Solutions.
Andrew's Teaching Style
Andrew's class format is entirely project-based. Everything revolves around the projects and he offers learning resources for scaffolding.
He explains, "I treat my class like it is a game studio. I work with my students towards our shared goal of making cool projects."
In Andrew's classes, he wants to support students to learn the next steps needed to follow their vision. He says, "Think of me as the executive producer of your projects. Your job is to create the best possible product that you can. My job to empower you to do your job."
Resources
Andrew's game studio website:

https://www.teamtreegames.com/

Project showing his teaching style:

https://www.youtube.com/watch?v=69vDY8Y3v4M

Andrew's side projects with his kids:

https://play.unity.com/u/Its_A_Mr
Andrew's Classes