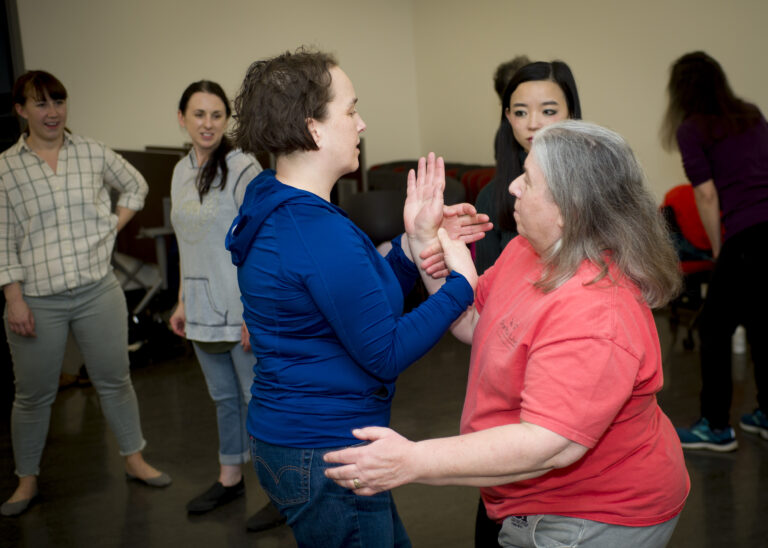 Class Overview
Research shows that anyone who has successfully defended themselves in an attack had a few things in common. They recognized the threatening situation quickly, clearly defended their boundaries, and used physical means when it was necessary. During this comprehensive self-defense course, learn to recognize potentially unsafe situations and protect yourself with confidence. Discover the ploys and manipulation commonly used by attackers or people who seek to harm you. Learn and practice releases from common grabs. Discover how to use your body language and voice to deter attacks. Learn how you can assess risks to defuse, deescalate or evade before a physical assault ever happens. This is a progressive skill-building course. Come prepared to challenge yourself and enjoy the self confidence you will gain!
Learning Outcomes
Participants will gain a basic understanding of personal safety and self-defense in order to:
recognize "red flags" that someone may mean harm
use their "exit strategy" skills to thwart intended harm
use physical skills to disable an attacker and escape, if necessary
seek support and appropriate self-care after an intended assault
Who Should Take This Class?
Anyone who wishes to learn everyday personal safety and self-defense skills
Class Details
Please visit https://waiver.smartwaiver.com/w/5e7d0512d5cf5/web/ for Online Class Participation Agreement for Self Defense 101 before the start date. This course is a real-time interactive online course. You will use a real-time interactive conference tool to connect with your instructor and classmates throughout the quarter. The instruction and information about course access will be provided by the instructor. A portion of this course may be recorded for shared learning and review during this course only; and the recordings will be deleted after the end of the quarter. High-speed internet connection, and a personal device with webcam and microphone are required for attending the class. Connect with your classmates and learn from the comfort of your own home!
6 Thursday; Jul 15 to Aug 19 ; 6:30 pm to 8:30 pm

Location : SCONL; Room Online

Fee : $199
Class ID : 38554 ; SKU : 9219
Instructor