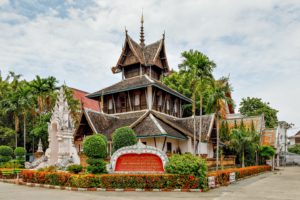 Class Overview
Discover the warm and wonderful culture of Thailand. Enjoy learning about Thai food, good places for vacation, and basic words and phrases.
In this class, you will have an introduction to the culture of Thailand and learn why it is called the "land of smiles." Discover a bit about the history of Thailand and the region of Southeast Asia. Learn about the art of Thai cooking and gain tips on how to cook like Thai people who were born in the United States.
Enjoy easy conversation with basic Thai words and phrases, plus cultural norms and differences. If you're planning a trip to Thailand, this class will be especially useful, and you will gain tips for safe and affordable travel.  
We will go out for lunch at a nearby restaurant together for a fun cultural immersion experience. No skill or knowledge is needed to enjoy this class focused on Thai culture.
This class is part of our Broadway Hill Club offerings, designed for older students and offered during the daytime on diverse topics, though students of all ages are welcome.
Supplies Needed 
Lunch at a restaurant - you will pay for your own lunch, or an appetizer and drink.
Learning Objectives
Easy Thai cooking or Thai-American home cooking.  Cook like Thai people who were born and live in the US.
Learning about Thai culture – a big plus to build understanding across the two cultures and to create a sweet harmonious life.
Who Might Enjoy This Class
Anyone who has an interest in Thai culture
Seniors who have time and interest in doing fun activities 
Someone who works in a diversified business environment
People interested in visiting Thailand
No experience is necessary; everyone is welcome!
Class Details
When : Wednesday, Apr 12 to May 31 ; 1:00 pm to 3:00 pm
Location : SC0BE , SC - BE - Cont Edu - BE1139B
Fee : $169
Instructor