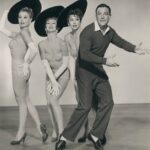 Class Overview
Enjoy watching spectacular dances in old and new movies and explore the ideas reflected about society, while enjoying the beauty and entertainment. Discuss the effect of technological, social changes, and economy on modern society over the past century and how that is expressed and revealed through dance in film. Each week we will watch together at least 5 video clips from the films selected for that day's class.
Gain new perspectives through discussion and analysis of the stories behind these dances, music, lyrics, costuming, casting, direction, and dance styles. Enjoy the company and perspectives of other people interested in these movie dances, led by an instructor who has specialized in this topic.
View, analyze, dissect and discuss the work of Busby Berkeley, Fred Astaire, Ray Bolger, Donald O'Connor, Gene Kelly, Dick Van Dyke, Moira Shearer, Cyd Charisse, Gower Champion, Jerome Robbins, and lesser-known but equally fascinating dance professionals from the film industry. You will enjoy learning about the fascinating backstories, intentions, and meaning behind the dances and the dance makers.
Step behind the scenes to learn the secrets of these incredible dances from Hollywood films. This course is part of our Senior Series, courses designed for older students offered during the daytime on diverse topics, though students of all ages are welcome.
Learning Objectives
Gain an understanding of the history of dance in the movies
Learn about technology and the movie industry's learning curve as it relates to the technicalities of making dance work on a film
Understand the social implications of how and why certain dance styles have been accepted or rejected over the past 12 decades
Gain insight into the economic impact of movie musicals in Hollywood and beyond, including the launching of new fashion businesses, influence on the travel industry, music industry, fitness industries, manufacturing, and more
Develop knowledge about the role of international relations in movie dances
Who Might Enjoy This Class?
Anyone who enjoys music, dance, and film
People interested in the course's selected dances, dancers, and choreographers
History buffs and anyone interested in the development of social norms and cultural change
Class Details