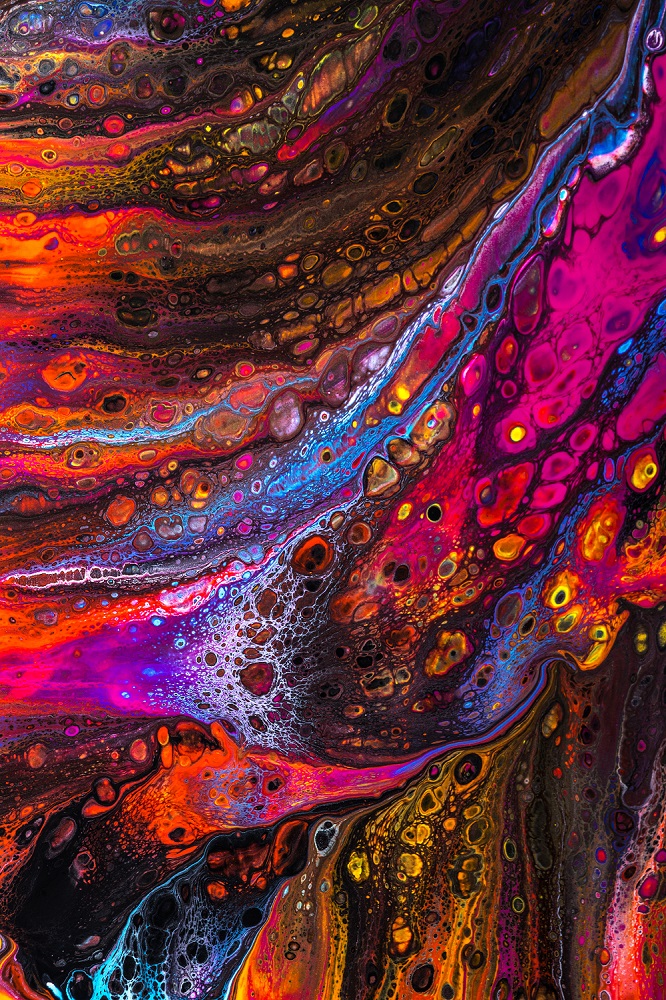 Class Overview
Go with the flow! Experience the highly popular and exciting art of paint pouring. Paint pouring is a fun, creative, exciting, beautiful, and easy art.
Colorful, diverse, experimental, and free-flowing, paint pouring offers an almost infinite range of creative possibilities. Learn how to create beautiful, colorful, spontaneous, dynamic art that can yield results ranging from abstract to patterned designs. Results might look like marbling, cells, waves, clouds, galaxies, and beyond – the sky's the limit!
These beautiful natural artworks can also be used to bring beauty, color, vitality, and life to any home or living space. We will cover a wide variety of paint-pouring techniques that give captivating results.  Master the art of paint pouring and bring home beautiful works of art and cherished memories.
Supplies Needed
See the supply list.
Learning Objectives
Familiarity with the basic tools and supplies to produce art with paint pouring
A variety of techniques to produce beautiful paint pours
Hue, value, saturation, contrast, composition, and movement in your paint pours
Ways to control your paint pours and to "go with the flow" to maximize the spontaneity of the medium
Color, color combinations, and paint mixtures
Maximize "cells" in your paint pours
Stacking colors
Applying a "Base Layer"
Modifying and enhancing your pour (before, during, and after it's poured)
A wide variety of paint pouring techniques and styles, including: Dutch, open bottom cup, layered cup (dirty cup pour), traveling cup, swipe cup, strainer pour, bottle, maximized cell, and "swipe" pours including spatula and plastic wrap pours
Who Might Enjoy This Class
Anyone interested in time and space for creativity
People interested in learning a new dynamic art form
Anyone who would like to get experience in paint pouring and bring home some beautiful and colorful artwork
Class Details
When : Monday, Apr 10 to Apr 24 ; 6:00 pm to 8:45 pm
Location : SC0FA , SC - FA - Art Studio - FA0402
Fee : $135
Instructor