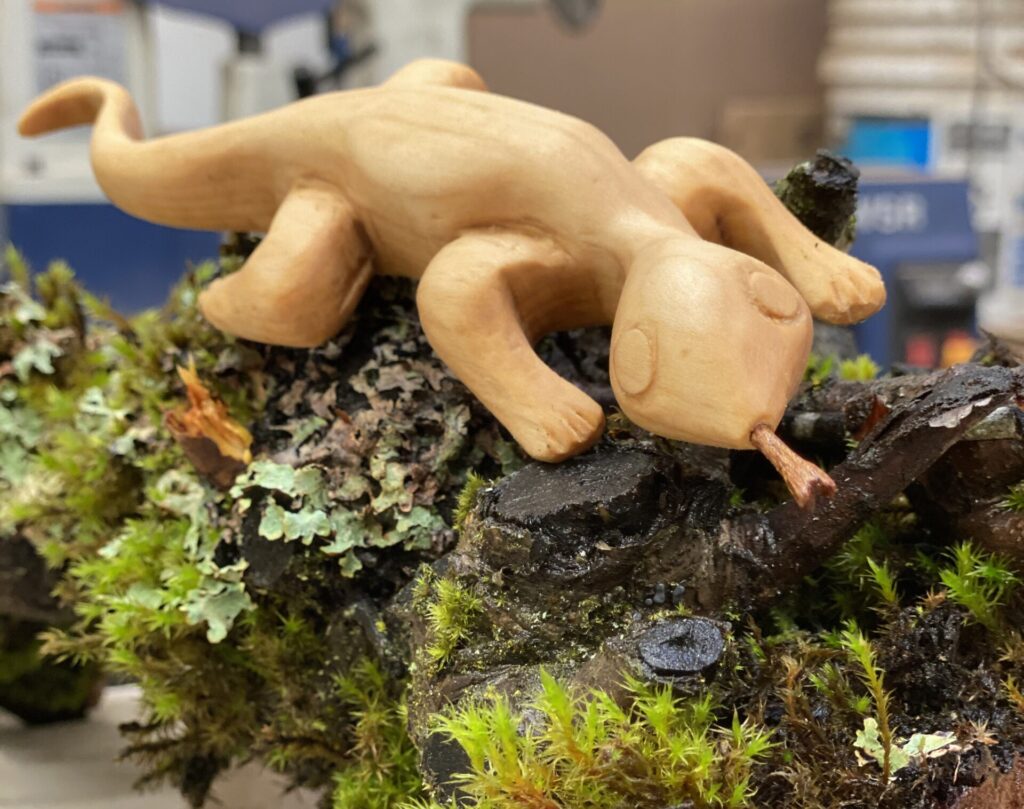 Class Overview
Whittling is a simple and fun hobby that many people all over the world enjoy. In this interactive class, learn how to use the tools, select wood for your project, make the basic cuts and use proper whittling techniques. Enjoy whittling small animals that you will treasure for years and they also make wonderful gifts. In this class we we also learn how to sharpen and hone your tools to keep them razor sharp. Discover a new interest through this fun, hands on, engaging class! No previous whittling experience required.
Supplies Needed
Small wood pieces (Recommended: Sumind 12 pieces Unfinished Basla Wood Mini Carving Blocks 4 Sizes: 50 x 50 x 100 mm, 30 x 30 x 100 mm, 30 x 30 x 50 mm, 50 x 30 x 50 mm)
Whittler's detail knife / sharpen carving knife (Recommended: KN13 Flexcut knife)
Carving gouge set (recommended: Mikisyo Power Grip Carving Tools 7 Piece Set)
Carbon paper
Thumb guard
Cut resistant gloves
Leather honing strop with polishing compound (recommended: BeaverCraft Leather Honing Strop with Polishing Compound LS2P1SR41 3"x 8"Double Sided Leather Stropping Kit for Knife Sharpening Vegetable Tanned Leather for Stopping Tools)
Sand paper 120 – 220 grit and 320 grit
Pencil
Blue tape (recommended: ScotchBlue Original Multi-Surface Painter's Tape)
Mineral food safe oil (recommended: Howard Products BBB012 Cutting Board Oil, 12 oz)
Learning Outcomes
Upon successful completion of this course, you will be able to:
Obtain basic knowledge of whittling
Understand use of tools
Whittle with confidence
Be familiar with how to select woods depending on projects
Make the basic cuts and techniques
Understand how to sharpen the tools
Who Should Take This Class
Anyone interested in trying the art of whittling
People looking for a new hobby, creative outlet or craft to do with your hands
People who are new in using carving tools
Anyone who would like to make small animals from wood
Class Details
Woodworking classes will be in-person at the beautiful Wood Technology Center located at: 2310 S. Lane St, Seattle, WA 98144. The first session is at a classroom, and the rest of the sessions are at the Core Shop.
Seattle Central Requires COVID-19 Vaccines and Masks for Students & Staff
Seattle Colleges will be a fully vaccinated higher education institution in accordance with Gov. Jay Inslee's recent COVID-19 Proclamations. The decision comes after consultation with the board of trustees, health and safety officials, and labor partners.
Full vaccinations are required for students, staff, and faculty coming to campus this fall, with exemptions for medical or religious reasons. This allows the colleges to reopen and return to in-person teaching and learning, to the fullest extent possible, while safeguarding against transmission of COVID-19 and its variants. Students must report vaccination status by Nov. 1; we will update Continuing Education students about the process for that soon.
In accordance with Washington State guidelines for the college, everyone attending in-person classes is also required to wear a face mask inside buildings, to help prevent the spread of COVID-19.
In addition, everyone who comes to an in-person class (Capitol Hill, Wood Technology Center, Seattle Maritime Academy and Georgetown) will be required to complete a daily health screening questionnaire each day that you visit. Please take time to review the COVID Procedures: https://www.seattlecolleges.edu/coronavirus/current-covid-19-procedures.
3 Thursdays ; Jan 13 to Jan 27 ; 6:00 pm to 9:00 pm
Fee : $159
Class ID : 38803 ; SKU : 32181
Instructor