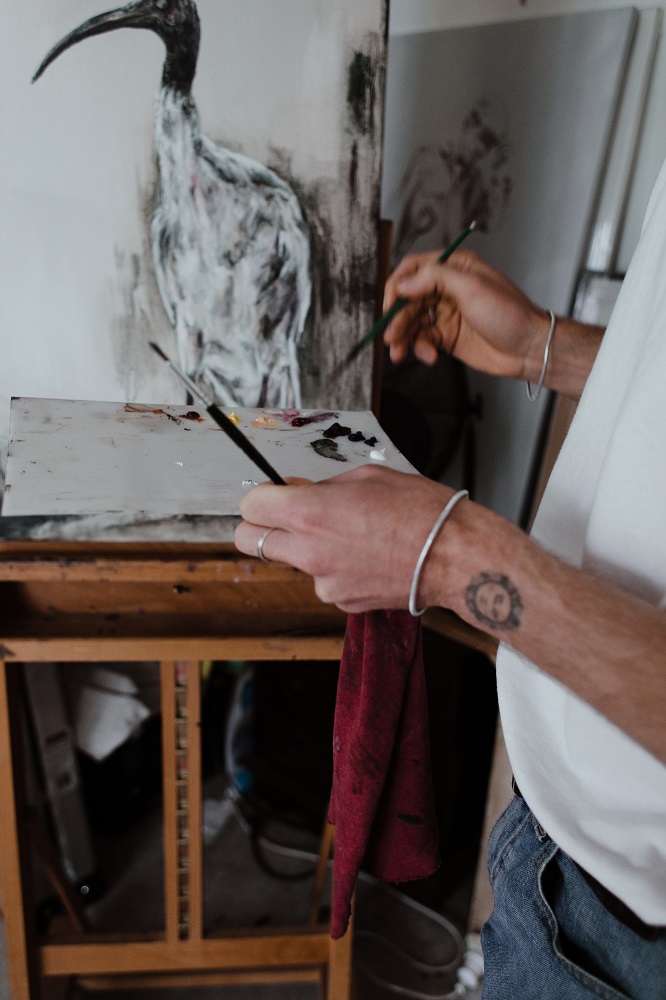 Student Reviews
"I'm happy with the course. Best parts: Peter's expertise and ability to give valued direction."
Course Overview
Do you like to draw and want to take your skills to the next level? Focus on drawing and painting the fascinating world of animals in this engaging and informative class.
Through the development of keen observational skills of the natural world, learn to realistically represent animals in drawing and acrylic painting. Gain knowledge and understanding of animal anatomy to be able to make more realistic portraits. Subjects will include a variety of amazing animals such as mammals, birds, reptiles, fish, insects, crustaceans, mollusks, and more.
Learn about form and function, highlights, shadows, details, proportion, three-dimensionality, value, contrast, and color. These basic principles in drawing and painting will help you learn to depict the animal world in a variety of vibrant and dynamic ways, and you will be able to use the skills gained in all other creative endeavors.
Supplies Needed
This supply list gives you the option to purchase a smaller selection of supplies, or a larger, more varied selection of supplies, depending on what you would like to use for class (and after class). The more varied selections will be listed with the word "optional." For the drawing supplies, it will be good to have them for the first class, but for the painting supplies, you can wait until after we talk about them on the first day of class, since the first few days we will be drawing.
Drawing Supplies
Pencils (Graphite): 2B, 4B, 6B; optional: 8B and 6B or 8B woodless pencil
Drawing paper pad - 70-90 lb. either 9"x12" or 11"x14"
White vinyl eraser
Pink eraser on the back of a pencil or (optional) a mechanical eraser (Tombow Mono Knock 3.8)
Paper blending stomps - 3 or 4 in a variety of sizes, or paper towel/ tissues for blending for the first day
Pencil sharpener - preferably with shaving collector
Painting Supplies
You can wait to get paint supplies after we talk about them in the first class.
Acrylic paints - you have the option of getting either: - an "Entry-level collection" of at least 5-6 colors: at least white, yellow, green, blue, red, black (i.e. Liquitex Basics is one brand); either 60ml/2 oz or 118 ml/4oz - or a more varied collection including titanium white, light yellow, medium yellow, medium orange, medium red, magenta, dioxazine purple, ultramarine blue, phthalo blue, phthalo green, and black; either in 118ml tubes, 250 ml tubes, or 400 ml jars.
Watercolor paper pad - 8.5x11", 9x12", 11x14" or 12x16", and/ or canvases, stretched or canvas panel - 8.5x11", 9x12", 11x14" or 12x16"
Brushes - small #1 round, a ¼" filbert brush, and a 3/8" filbert brush
Optional brushes: ½" filbert, ¼" angle brush
Jar or large plastic cup or container (like for yogurt or peanut butter) for water
Paper towels
Disposable paper palette pad (i.e., Strathmore, Canson, etc.) - 9x 12" or 12x16" (12x16" is better because it has more room)
Optional:
12 x 16" "stay wet" palette (to keep paints wet between sessions) or Hipiwe a4 file box (recommended)
Paper plates for additional paint mixing
Acrylic matte medium
Spray bottle for keeping paints wet
Small table easel or small drawing table (depending on preference for drawing/ painting on a table or upright)
Learning Objectives
Depict a variety of animals in pencil drawing and acrylic painting
Draw or paint 3D forms in animals through light, shadow
Gain skills to represent proportions and details of subjects
Develop and use observational skills to represent animals accurately
Draw and paint a wide variety of animal life
Who Should Take This Class
Anyone who is interested in enriching their lives by drawing and painting animals
People who draw and/or paint who would like to gain or improve their skills
Scientists, naturalists, nature lovers, or anyone who is fascinated by animal life, and would like to become more acquainted with drawing and painting the natural world
No experience is necessary; everyone is welcome
Class Details