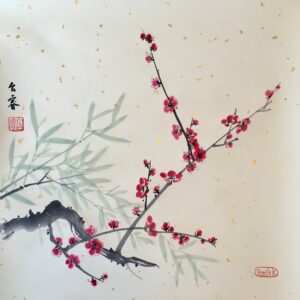 Class Overview
Learn the satisfying and expressive art of Chinese brush painting. Focus on botanical images and learn basic techniques in the Chinese way. This course is designed for anyone who is interested in learning Chinese watercolor painting using basic Chinese brush techniques. You will learn how to control the weight of your brush strokes as you capture and paint traditional forms.
Do you know what the traditional four treasures are in Chinese culture? How about the four gentlemen (plum, orchid, bamboo, and chrysanthemum)? Enjoy learning the philosophy, aesthetic and cultural significance associated with this painting technique. Learn painting skills using outlines and freehand and become confident creating art works in Chinese art way.
Supplies Needed
Three Chinese painting brushes: size large x 1 (sheep/goat hair), size medium x 1 (sheep/goat hair or wolf/weasel hair), size small x 1 (wolf/weasel hair)
White blank Xuan rice papers: white half raw Xuan paper is recommended for beginners. 50+ sheets of 13.8" x 16" or larger Chinese color paints set: Look for Chinese watercolor paint. The paint that we need for the class is different from the regular watercolor paints
A water jug/bowl for brushes cleaning and dipping
A Chinese calligraphy desk felt mat: at least 25"x30" to prevent ink stains on your desk
A ceramic flower shaped palette for color mixing. (5+ small ceramic soy sauce dishes could be used too)
A bottle of liquid ink (or Ink stick and ink stone)
* Students could find these online or art supply stores. The instructor will discuss details in class.
Learning Outcomes
Upon successful completion of this course, you will be able to:
Be familiar with the essential skills for basic Chinese painting.
Understand the key elements of Chinese visual art and aesthetic, as well as the culture and philosophy behind it.
Complete outline and freehand paintings with confidence in the Chinese art style.
Who Should Take this Class?
Anyone (18+) interested in Chinese painting and art.
Students would like to practice painting after each less every week to make the fastest progress -- though that is not required.
Artists interested in learning a new art form.
No experience is needed!
Class Details
This class is held online by videoconferencing. It is led by an instructor(s) in real-time as an interactive class experience. To attend and participate fully you will need access to a computer or device with video and a microphone, plus high-speed internet connection. Instructions to access the class will be emailed to you by the instructor or staff member before the class begins. Note: part of this class might be recorded, for the students and instructor to use for review only; recordings will be deleted after the end of the quarter.
8 Wednesdays ; Sep 29 to Nov 17 ; 6:30 pm to 8:30 pm

Location : SCONL; Room Online

Fee : $239
Class ID : 38699 ; SKU : 29485
Instructor