Spanish Program Changes for 2020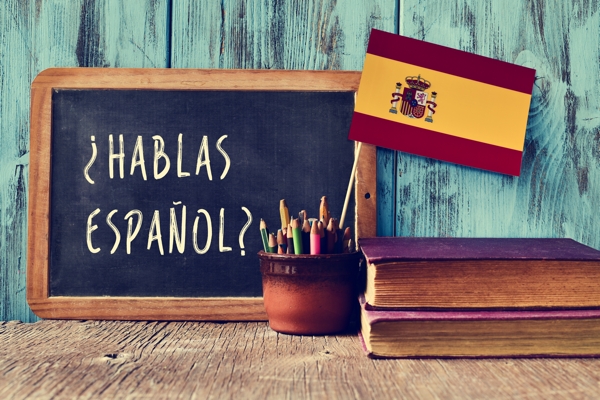 By Liza Burke, Marketing Manager
Current and future students of Spanish, we're excited to unveil some improvements in our Spanish class lineup for winter!
The goal is to help clarify which class is a good fit for your level and create a smoother pathway from one class to the next.
You'll see some minor changes to titles, clearer prerequisites, and some options for intermediate students to choose a more conversation-focused class.
Internally, we're also adjusting curriculum across the Spanish program to better support students as their language skills progress.
If you're asking yourself "Which class should I take?" this image is for you: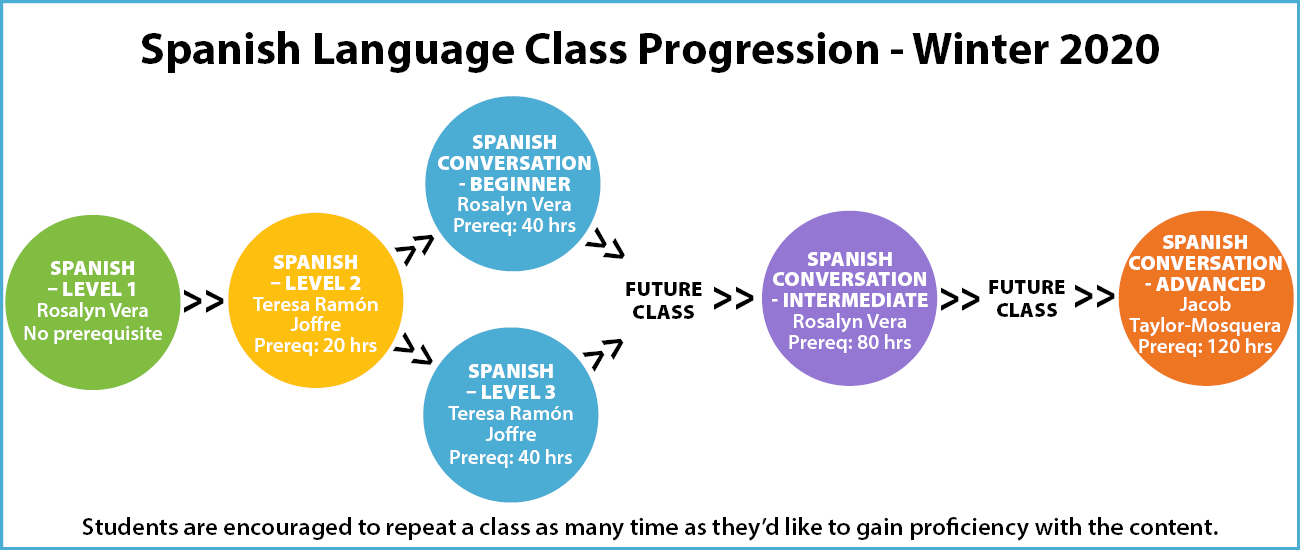 Spanish Level 1, 2 and 3 focus on grammar, speaking, reading and writing in a relevant context. In these classes, you will also practice conversation. You can take them sequentially, going from Level 1 to Level 2 to Level 3.
If you prefer to focus more on speaking, you can pursue the conversation track if you have some experience already. The first conversation class is for students who have 40 classroom hours or the equivalent. So, if you have taken Level 2 and feel good about the content and ready to move on, or you have 40 hours of class experience or the equivalent, you could either take the Beginner Conversation class or Level 3, depending on your preference.
Often, students take the same class multiple times to gain more mastery of the content and we think this is a great strategy.
In future quarters, you can expect to see new classes added, such as next levels, intensive classes or special topics.
Instructors
Two wonderful new instructors are joining our talented team, bringing a wealth of knowledge, experience and passion. Learn about Rosalyn Vera and Jacob Taylor-Mosquera. We think you'll enjoy them!
Learning from a variety of instructors can be a great advantage in your learning process. Each teacher has different approaches, knowledge, styles and backgrounds to offer which might speak to you in different and valuable ways.
In other news, Jessica Lisovsky is taking a step back from teaching after nearly 30 years. Read more about Jessica's long and interesting career on our blog.
Winter Classes 2020
Here is the list of classes with links to web pages so you can read about the details:
The following classes are similar to Levels 2-3 and 3-4, but we are phasing the titles and formats out for the ones above. However, if you took the prior class in this series and would like to continue, these two classes are options for winter:
Finally, if you work in the medical field and would like to learn Spanish specific to your industry to become more successful communicating with Spanish speakers, this online class is an option for you to explore:
Do you have any questions? Please contact Program Specialist Saori Sampa (and feel free to read about Saori as well, and her background as a language specialist): Saori.Sampa@seattlecolleges.edu or (206) 934-3271.
¡Disfruten! Enjoy your Spanish learning in 2020!
Related Classes