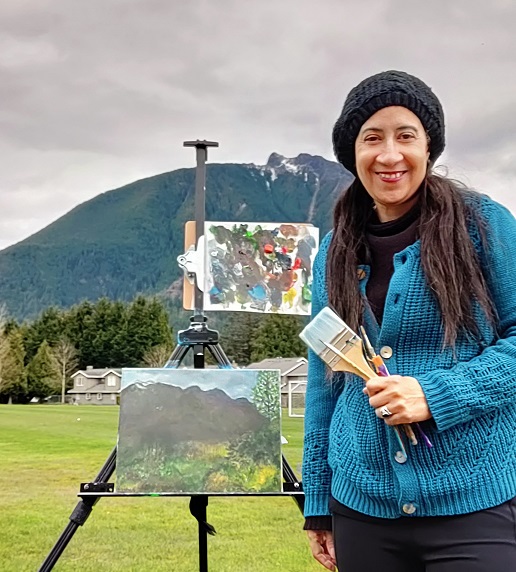 Class Overview 
Immerse yourself in the exhilarating practice of painting outdoors in this special two-session workshop. Create your own unique painting and gain skills so you can continue to paint "plein air" on your own in the future.
Learn about tools, materials and techniques for plein air painting. Explore the landscape color wheel and practices for mixing colors for the outdoors. The first class will be indoors and include a look at art history to appreciate techniques used in plein air painting. The second class will meet at a location outdoors that will be inspiring for painting.
No experience needed, just a willingness to learn. Be sure to dress so you will be comfortable outdoors.
Learning Objectives
Techniques for plein air painting.
Materials for painting plein air and how to use them
Light, shadow, composition, observation, color, style, format and presentation 
Appreciation of plein air painting by looking at examples in art history 
Connection to art in an outdoor environment
Who Might Enjoy This Class? 
Anyone interested in learning the techniques for plein air painting
Painters interested in focusing on the specific techniques of plein air
Anyone seeking a new experience to make winter more interesting
Supplies Needed
Paints: acrylics, oils or watercolors – your choice
Colors needed:
Titanium White
Mars Black
Primary Yellow, Cadmium Yellow, or Lemon Yellow.
Naphthol Red.
Phathlo Green and Hookers Green
Ultramarine Blue and Cerulean Blue
Burnt Umber
Brushes: 
6 sizes ranging from small to large:
A large wash brush or Hake
Other brushes: filbert, round, flat, liner and fan
Two small jars or containers with tight lids A washcloth A palette Canvas or watercolor paper, no larger than 9" by 12"
No textbook needed. 
Class Details
When : Monday, , Saturday Jan 22 to Feb 03 ; 6:30 pm to 8:30 pm
Location : Online , Zoom WA
Fee : $99
Instructor