Ali Houssein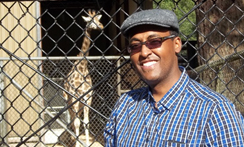 Ali was born in Djibouti, a small French-speaking country located in the Horn of Africa.
He attended Paul Valery University in Montpellier (France) and graduated in both Modern Humanities and Teaching French as a Second language.
Later, Ali returned to his country to teach French literature and grammar in Middle and High schools.
He was involved in several educational think-tanks on integrating the common values of La Francophonie in school curricula.
Ali's teaching method is based on a participative approach, which prepares the student to become a social player.
Ali moved to Seattle in 2008, and shares his passion for teaching French at Seattle Central College.
Ali's Teaching Style & Approach
My teaching approach is based on student participation and interactions: student/student and student/instructor. I always try to supervise versus one-way teaching my students. I want them to be more actors in their learning process than just spectators.
I try to challenge them by helping them to use in class what we learnt by asking or answering questions from their peers. It has to be always an exchange. I need my students to have a sense of control in their learning process to empower them and to make them feel more confident.
The dynamic is based on using these 4 skills in class:
listening
reading
writing
speaking
Ali's Resources
"Ali does a great job creating a fun and supportive learning environment."

"The interactions and having to verbally practice with the other students helped to reinforce what we were learning. It helped a great deal to have the instructor correct our pronunciation while we spoke."

"I enjoyed this class tremendously. In addition to the opportunity for conversation, the instructor always brought very interesting multi-visual materials to class, which added to my knowledge."

"The teacher was funny and very knowledgeable about French. We played a few games which I enjoyed because it helped me practice and learn."

"Enjoyed hearing the instructor speak and thinking about the language learning process."

"The course was well structured and gave me just enough information to feel like it was in depth without going into so much detail that would have made it confusing." -- Emily Shine

"The conversational elements of this class were very helpful and educational. Ali was friendly and professional throughout the class, and he provided a low-pressure environment that made me feel safe as I pushed the limits of my linguistic comfort zone."
Classes