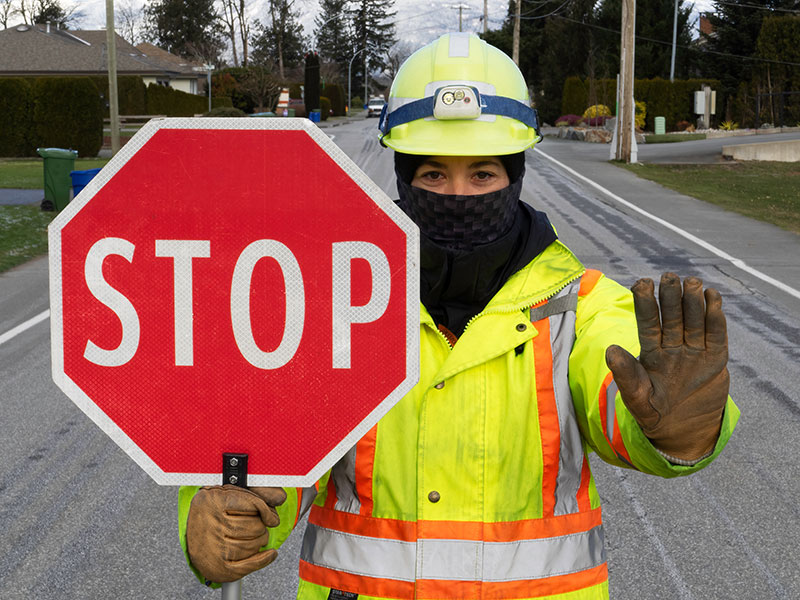 Class Overview
Gain the education to become a safe and certified professional flagger, and leave with your certification in hand. In this all-day workshop, you will learn how to ensure the safety of both workers and drivers during road construction and repair projects.
Through visual movements and appearance, the flagger must establish authority and confidence so traffic responds consistently in a timely manner. The flagger communicates to drivers whether they need to stop, change lanes, proceed more slowly, or maneuver as necessary around the work site in order to keep everyone safe.
The trained flagger is the key factor in establishing proper warning and traffic control to assure workers' safety and to see that traffic moves cautiously and consistently through the work zone.
The contents of this class will provide you, the flagger, with the information and procedures necessary to enhance the safety of both workers and drivers while in typical street and highway construction and repair projects.
This is the required certification for applying for a flagging and traffic control position in the State of Washington with reciprocity in Oregon, Idaho, and Montana. The certification manual used for this class incorporates required information from the Manual on Uniform Traffic Control Devices (MUTCD), Part 6 of the Temporary Traffic Control for Standards and Procedures in the State of Washington.
Location: Georgetown Campus (Address: 6737 Corson Ave South, Seattle, WA 98108), Building C, Room #110-111)
Students must be at least 18 years of age.
Register early to secure your spot. Seats are limited and can only be held with registration and paid class fee.
Fee includes book and flagger certification card. Certification is valid for three years in Washington/Oregon/Idaho/Montana.
What you need to know before attending the class
Complete Daily Wellness Screening on the day of the class, before you enter the building.
Arrive on campus at 8:00 AM for a required health and safety check-in. Students won't be allowed to join the class if they are late and no refund will be issued.
Parking is available for $5 per day at the parking kiosk on site.
Wear closed-toe shoes to the class.
Bring a pencil and other necessary stationery for note taking and the exam.
There is a 30-minute lunch break, please bring water/food/snacks if needed.
Class ends at 4:30 PM or before, depending on how quickly you finish the exam.
Receive your certification card after you pass the test.
Beginning Spring Quarter 2022 (Monday, April 4) masks, for the most part, will be "optional but encouraged" at Seattle Colleges.
Social or physical distancing is no longer mandated at Seattle Colleges and other colleges that require vaccination, per the governor's higher education proclamation. However, three to six feet of physical distancing is encouraged, where feasible.
Seattle College's Current Campus Entry Procedures
Seattle Colleges is a fully vaccinated higher education institution in accordance with Gov. Jay Inslee's COVID-19 Proclamations. Full vaccinations are required for students, staff, and faculty coming to campus since Fall 2021, with exemptions for medical or religious reasons. Please visit Current Campus Entry Procedures to see the latest announcement from the college.
Class Details