Setting Healthy Boundaries: An Interview with Joanne Factor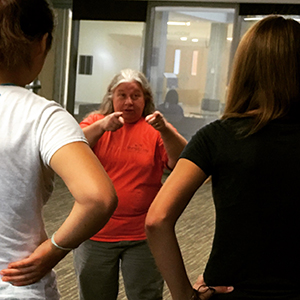 Teach Others How You Want to Be Treated
We're not often trained to properly identify, set, and maintain healthy boundaries in our personal and professional lives. We give too much, take too much, do things out of obligation, feel guilty for saying 'no' to a request, and more.
All of these are signs that we're not clearly defining how we want others to treat us, and how we care for ourselves.
Instructor Joanne Factor has been teaching people how to set boundaries and then maintain -- or defend them! -- in her self-defense classes since the 90s. While she does teach her students how to defend themselves using physical techniques, a lot of what she teaches is how to identify red flags so that you can get yourself out of situations before they become unsafe.
Learn more about Joanne's background and how she approaches her Self Defense 101 and Self Defense 102 classes.
What inspired you to teach your self defense classes?
In 2003 I worked with a team at the VA Medical Center on a self-defense therapy group for women veterans dealing with long-term chronic post-traumatic stress disorder as a result of sexual assault while in military service.
It wasn't pretty, these women's lives had been stolen from them: Their independence, their self-efficacy, their ability to form healthy long-term relationships with others.
I had taught a 4-week course before, and over time revised it to include more material to help give women resources to not only fight back but to also better take care of their emotional safety after an assault.
As part of this, I expanded venues for teaching. I remember one day in the winter of 2004 just walking into the Continuing Education office, asking to speak with someone about offering a class, and met Cheryl Braxton. And we got it going.

What do you enjoy the most about teaching your classes?
I enjoy the process that students go through -- from wondering if they would be able to fight back to knowing they do have the skills and options of not only fighting back but also recognizing options and resources they may not have previously considered.
I also love the increase in confidence and commitment to their life dreams and goals.
How are your self defense classes different than other classes or workshops you teach?
Both 101 and 102 are progressive skill-building classes, so over the course of several weeks, we review and add to what we've previously practiced.
We get to refresh fundamentals each session, and each week students get "homework" –- an email with a link to a page of videos, other readings, and a short quiz.
Also, students over time often build a sense of connection with others in the class, and sometimes even exchange emails or friend each other on Facebook to keep in touch.
I think the longer classes give those kinds of connections time to emerge.
Who would benefit the most from taking your self defense classes?
Women (from late teens on up) would most benefit from taking my classes, but they're open to anyone who wants to feel more confident and safe while interacting with others.
If any of the following apply to you, then these classes are for you:
You've ever hesitated to go out, attend an event, or participate in an activity due to concern about assault from another person
You consider your personal safety when choosing how you dress, where you go, and whether or not you speak up
You've declined invitations or travel or even taking walks by yourself because of fear of attack
Tell us about an inspirational teaching moment.
I'd have to say the "a-ha" moment for most students in this class is breaking a board.
They are thinking, what if I can't do it? What if I instead hurt myself? What if I freeze?
And then they break it.
And that's truly a break-through moment.
Key Takeaways
Your voice is your most powerful safety tool
Your intuition is invaluable, pay attention to what it says
You have value as a human being and do not deserve to be treated as an object or accessory
Recommended Resources