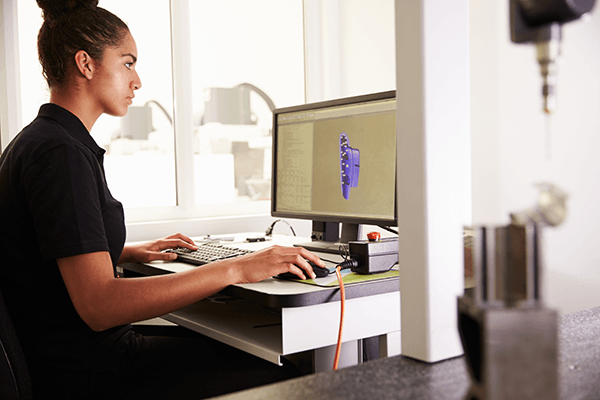 Student Reviews
I like how quickly and easily I picked up new skills with CAD.

I enjoyed... the teacher's style and personality, as well as the other student's interest and helpfulness. The class feels like a community.
Class Overview
Continue to learn Computer-Aided Design and Drafting (CAD). This class is a continuation of AutoCAD Level 1. Advance your skills with the software used by architects, engineers, construction professionals, interior designers, real estate developers, artists, and others, to create precise 2D and 3D drawings.
In this class, learn the next set of drafting and design skills needed to compete in the rapidly changing 21st century global workplace and qualify for entry level AutoCAD® drafting positions. If you already have experience working in drafting, this class will help you assume more senior AutoCAD® positions and gain more confidence in your software skills.
Enjoy significant hands-on experience sequenced to build on previous classroom/lab and work experiences. Explore the following topics:
• Paper space and layouts • Printing your drawing • Text and dimensioning • Creating and managing blocks • Hatching • Advanced editing features
Learning Objectives
• Continue building on your knowledge of AutoCAD • Gain experience working with intermediate-level skills and tools • Learn new elements of the software • Understand industry best practices
Who Might Enjoy This Class?
Prerequisites: Completion of AutoCAD Level 1 or previous experience using AutoCAD. Basic computer skills (able to use the keyboard and mouse) and the ability to comprehend English. • Anyone who has completed our AutoCAD - Level 1 course • Individuals interested in competing for entry-level drafting positions • Seasoned professionals that would like to improve their confidence and skills with this software
Class Details