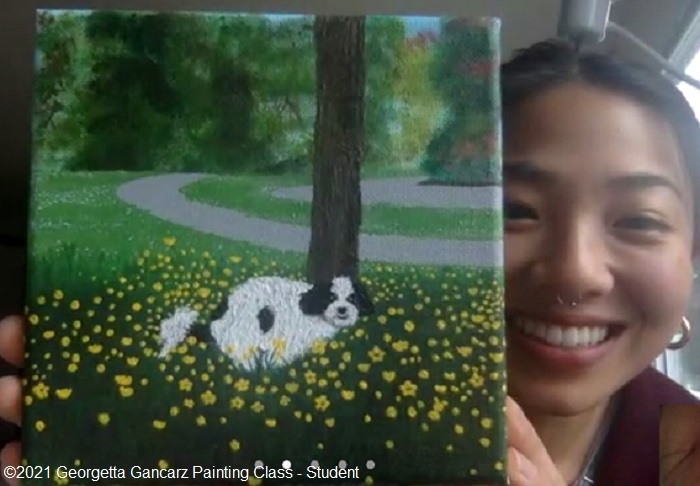 Class Overview
Would you like to learn how to paint? Learn painting fundamentals in a fun interactive class! Enjoy individual instruction and supportive feedback while learning to create beautiful works of art.
Learn about paints, brushes and other materials, and how to use them. Discover color theory and how to mix colors to get the results you want. Explore perspective, shadows, light, and form, and how to use them to create a realistic effect in your painting.
Enjoy exercises that will help you build your skills. Topics include painting landscapes, still lives, animals, portraits and abstraction. You will also be able to explore originality in art, and paint from photographs, memory and your imagination. Learn new techniques or further develop skills you already have and to get to the next level.
The instructor is a professional artist with international experience and works in museums.
Learning Objectives
Be familiar with the tools and techniques to develop a work of art
Use observation, linear perspective, volume and originality
Explore composition, form, color, tints, tones, gradations, values, space, light, shadow and texture.
Develop techniques such as blending, glazing, color mixing
Learn to use materials effectively and safely
Express different ways to document art by developing an art vocabulary.
Understand art as a form of personal expression.
Who Might Enjoy This Class
People who want to paint and learn painting fundamentals
Anyone interested in learning about color, delve into art, and have a creative outlet
Beginner to advanced artists and art students
Artists or art students interested in learning how to use materials and techniques for painting
Anyone interested in participating in a painting community, receiving critiques of their works
No experience is needed; everyone is welcome!
Supplies Needed
CHOOSE ONE Acrylics or Oils
You will need six colors of 2 oz. Acrylic tubes.
SEE BELOW FOR COLORS
Titanium White (This is a bright white the color of typing paper)
Primary or Lemon Yellow (This is a yellow the color of a lemon)
Naphtol Red (This is a red the color of a fire engine)
Phthalo Green (This is a dark green the color of a cucumber)
Ultramarine Blue (This is a dark blue the color of night sky)
Mars or Ivory Black
BRUSHES
Brushes are made from Natural Hair and Synthetic Fibers. Synthetics are popular. Natural Hair adds more texture.
A GOOD RANGE OF BRUSHES SEE BELOW
One SMALL Round brush (Comes to a point)
One Medium Flat Brush (Looks like a square top)
One Filbert Brush (Great for blending)
One large WASH brush
Sets
Brushes can be purchased individually or in sets.
Sets often have better prices and include a range from small to medium to large.
FOR Acrylic or Oil: YOUR CANVAS
OPTIONS FOR CANVAS TYPES FOR ACRYLICS or OILS Canvas, Canvas BOARDS OR PANELS
4 Canvases or Canvas Boards The average size is 9x12
OTHER ITEMS NEEDED FOR ACRYLICS OR OIL
A Standard Size Palette Knife
A Roll of Wax Paper
Painters Tape
Two Plastic or Paper Cups
A Roll of Paper Towels
ONLY FOR OILS
A small bottle of Linseed Oil
A small bottle of Turpenoid (for online students only)
For non-toxic options can substitute for vegetable oil for cleaning brush
Textbook Needed: None
Class Details
When : Wednesday, Oct 12 to Dec 07 ; 6:30 pm to 8:30 pm
Location : Online
Fee : $235
Instructor