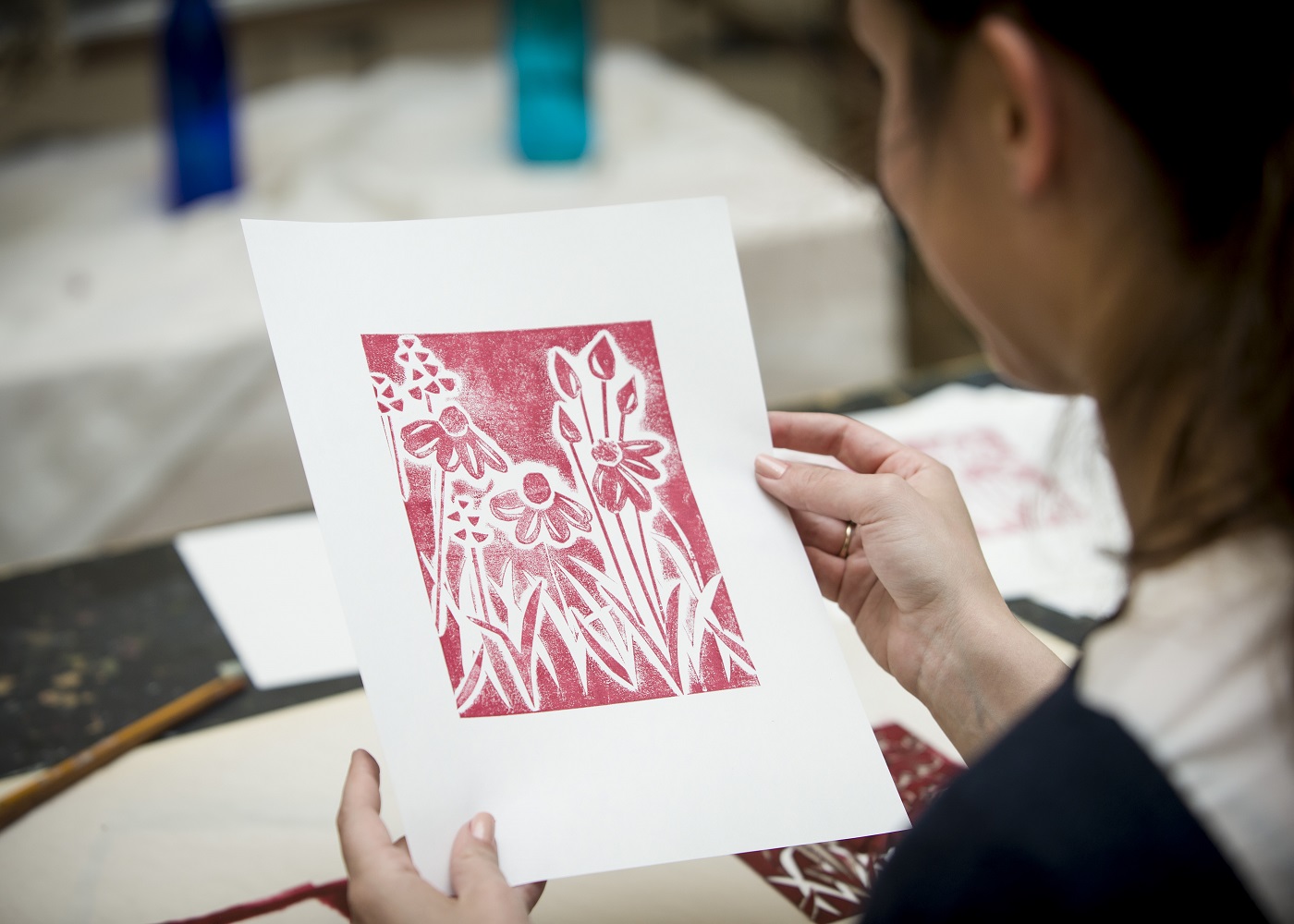 Class Overview
A monoprint is a single impression of an image that can be used for multiple printings. Learn how to create beautiful monoprints in many different styles in this fun hands-on class.
Play with shapes, negative space and textures. Create landscapes, portraits, still lives, and abstract works on paper and canvas. No prior experience necessary. Just bring your supplies and energy.
This class is recommended for any individual who wants to embrace art with creativity and ease. Projects are stress-free, therapeutic, and satisfying.
Supplies
Acrylic Paints You will need six small acrylic paint tubes. They can be purchased in kits or separately. Tempera or craft paints also work. Do not worry about the name of the paint, just look for theses colors:
White
Yellow
Red
Green
Blue
Black
If you have a favorite color like gold, silver or cooper feel free to add them to the list. Use colors you like. Brushes for Acrylics Brushes are made from natural hair and synthetic fibers. Choose one. Synthetic brushes are popular, and they are smoother. Natural hair has a rougher texture. Brush Size and Style Large brushes are good for bigger strokes and small brushes work well for detail. For class, please get these brushes:
One small round brush (comes to a point)
One medium flat brush (looks like a square top)
One filbert brush (great for blending)
One large wash brush
Brushes can be purchased individually or in sets. Sets often have better prices. A good set includes a range from small to medium to large. Paper Paper can be purchased in a pad or separately. You will need:
lightweight watercolor paper and or rice paper (or regular white typing paper of a heavier weight is okay)
10 sheets
Monoprinting Specific Materials 1 gel printing plate; they come in different sizes; choose one that is the size of your canvas or watercolor paper. 1 brayer; purchase one that is near the size of your canvas or paper. Other Items
A plastic palette knife (small, medium or large)
Wax paper — a roll of it OR a palette pad
Painters tape
Two cups to clean your brushes
Please note: easels are not necessary since you will paint on a flat surface.
Cost The cost of supplies varies, depending on where you purchase them. Craft stores are sometimes less expensive. Blick's Art Material, Jerry's Artarama, Amazon, Walmart, Michael's Art and Crafts, Artist & Craftsman Supply, are all places that sell these supplies. Please note, when purchasing online supplies, materials could take a week to arrive, so plan ahead.
Learning Outcomes
Upon successful completion of this course, you will be able to:
Understand the process for monoprinting
Be familiar with the materials for monoprinting
Have original art that you created, and prints you can share with others
Who Should Take This Class?
Any individual that wants to take a relaxing art class that is stress-free. No prior experience is necessary, only a willingness to learn and create.
Students wishing to learn online. The set up and materials are easy.
Class Details