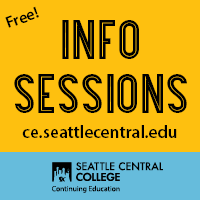 Are you interested in one of the following topics and would like to know more? Come to a FREE Info Session!
Information sessions are a chance to get a brief introduction to the topic covered in an upcoming class. You can meet the instructor and ask any questions you might have in a fairly informal interactive environment. The bottom two are the full educational experience, Welcome to Medicare and Leadership and No-Blame Problem Solving.
Please register in advance. A confirmation will be sent to you by email with any information you will need, before the class begins.
---
Certificate in Grantwriting
Learn about our Certificate of Grantwriting course. Learn what grantwriters really do, what skills you need to have, and how to get started as a grantwriter. Ask questions and meet the class instructor, Allison Shirk. Online.
Tuesday, March 21; 6-7pm -- please register by Monday, March 20 at 2pm
---
Accelerated Project Management
Find out about our in-depth Accelerated Project Management Certificate course, the profession, and meet the instructor, Jim O'Donnell. Bring your questions!
Thursday, March 23; 5-6pm -- please register by Tuesday, March 21 at 2pm
---
Bilingual Career: How to Become a Professional Translator & Interpreter
Are you bilingual? Learn about our Translation & Interpretation Certificate Program and classes. Learn a bit about the profession, and ask any questions you have during this info session. Online.
Thursday, March 23; 5-6pm - registration is CLOSED!
REGISTER -- registration is CLOSED!
Questions? Email: saori.sampa@seattlecolleges.edu
---
Yoga Teacher Training
Would you like to meet the instructor and ask questions about Yoga Teacher Training before the course begins? Come to an Info Session with Dee Williams! She will send you a link for an online Zoom meeting. 
Options: Tues, March 21, Thurs, March 23, Tues, March 28,  or Thurs, March 30; 7:30pm 
---
Chi Kung Exercise Hour
Curious about Chi Kung and if you'd enjoy our Chi Kung class? Give it a try! Enjoy an hour Chi Kung lesson led by Continuing Education instructor, Richard Aries, and enjoy this beautiful movement and healthful exercise.

Location: Broadway Edison Building (Room BE 1139B) at Seattle Central College Broadway campus, in person.

Thursday, March 30; 1-2 pm -- please register by Monday, March 27 at 2pm
---
Welcome to Medicare
Would you like help understanding Medicare? Medicare is a national health insurance program, run by the U.S. government. It provides health insurance for Americans aged 65 and older, as well as some younger people with disability status. It can be confusing and unclear who to ask, and we're here to help. This is a free three-hour class; online.
Saturday, April 8; 10am–1pm -- please register by Thursday, April 6 at 2pm
---
Leadership and No-Blame Problem Solving with the Citizen's Campaign
Learn your legal rights as a citizen leader who can bring solutions! Discover how you can participate in government decision making, using a successful practitioners' method. This is a free self-guided class in ten sessions offered through Citizens Campaign. Ongoing enrollment; online.