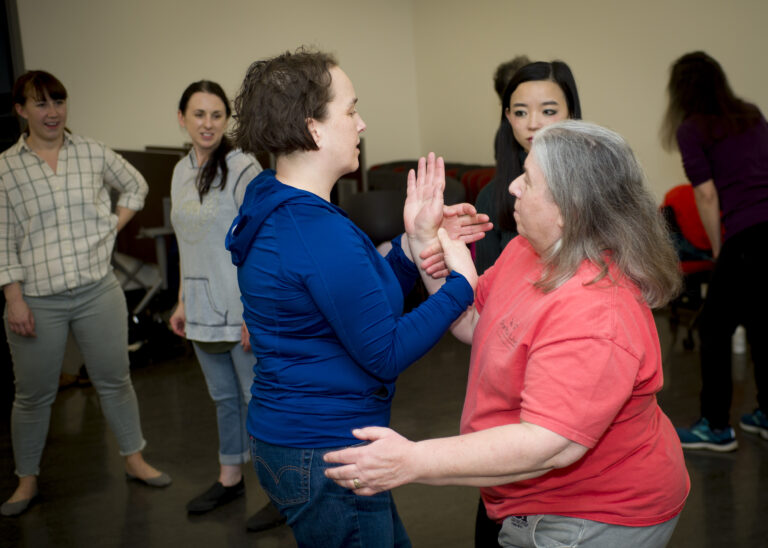 Class Overview
Research shows that women who defended themselves successfully in a threatening situation were able to quickly recognize the threate and enforce their boundaries, using physical means if necessary. Join this comprehensive self-defense course for women to learn how to recognize potentially unsafe situations and protect yourself with confidence.
In this class, you will learn and practice:
Assessing your risks, and planing around them
Recognizing the signs that will let you defuse, deescalate or evade before a physical assault ever happens
Understanding the connections between awareness, real threats and your media environment
Using your voice and body language with impact
Releases from common grabs and decisive strikes to vital targets
How to recognize assailant ploys and manipulations and how to thwart them
This is a progressive skill-building course. Learn the most basic elements early on, and practice them in later drills. In between each session, you'll have time to practice your moves and become more comfortable with them.
The first sessions will focus more on physical skills: strikes to vulnerable targets, releases from grabs, body language, and using your voice. Later sessions will put your new skills in various contexts, look more at setting boundaries, and different verbal strategies to control uncomfortable situations. Finally, you will learn to recognize domestic violence, and how to get help if you (or someone you know) are in an abusive relationship.
Each class is complemented by extra enrichment activities (some call it "homework") -- what you get out of your time in class will be greatly enhanced by just a small amount of time spent practicing between classes. Come prepared to challenge yourself and enjoy the self confidence you will gain!
Learning Outcomes
Participants will gain a basic understanding of personal safety and self-defense in order to:
Recognize "red flags" that someone may mean harm
Use their "exit strategy" skills to thwart intended harm
Use physical skills to disable an attacker and escape, if necessary
Seek support and appropriate self-care after an intended assault
Who Should Take this Class?
This class is for women and older teen girls who want to learn everyday personal safety and self-defense skills
Class Details
This class is held online by videoconferencing. It is led by an instructor(s) in real-time as an interactive class experience. To attend and participate fully you will need access to a computer or device with video and a microphone, plus high-speed internet connection. Instructions to access the class will be emailed to you by the instructor or staff member before the class begins. Note: part of this class might be recorded, for the students and instructor to use for review only; recordings will be deleted after the end of the quarter.
6 Thursdays ; Sep 30 to Nov 04 ; 6:30 pm to 8:30 pm

Location : SCONL; Room Online

Fee : $199
Class ID : 38698 ; SKU : 29571
Instructor