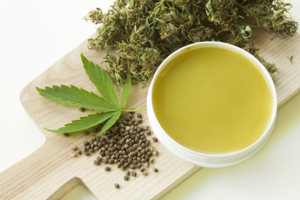 Class Overview
Learn how to make your own cannabis and hemp infused goodies for medicine or for fun. This class will teach you how to become a smarter shopper, scientist and cook all in one!
Gain an understanding of cannabis in ancient history for context.
Learn about the science behind cannabis including the physiology of the plant and its effect on the body when eaten. Learn about cannabinoids, terpenes and the endocannabinoid system, decarboxylation and bioavailability.
Find out what the legal difference is between cannabis and hemp in the United States and why it matters. Explore considerations for being a smart cannabis shopper when it comes to making edibles. Discover how to make fat extractions, tips for selecting and making recipes with cannabis or hemp and how to find your dosing sweet spot.
Join cooking instructor and author Mary J. White for this self-paced, online course to introduce you to cooking with cannabis and hemp. Mary has been teaching students for years and now brings her skills to an online community for those who live too far away to join her in person.
Learning Outcomes
Upon successful completion of this class, you will have:
An understanding of cannabis in ancient history
Knowledge about the physiology of cannabis and hemp and the effects on the body when eaten
Familiarity with making fat extractions and using recipes with cannabis or hemp
Information about dosages in edibles
Who Should Take This Class?
Washington State Medical Marijuana Consultants seeking continuing education units (CEUs)
Anyone interested in learning about making edibles with cannabis or hemp
Class Details