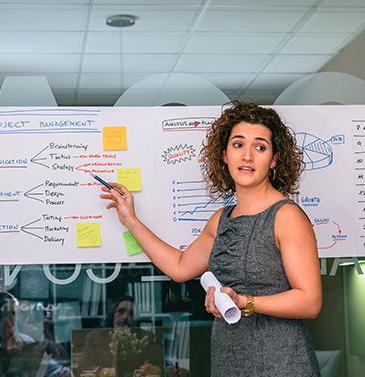 Class Overview
Learn the essentials of Agile project management! Discover why Agile is often the preferred way to collaborate and manage projects for cross-functional teams.
In this four-session class, explore the basic concepts of Agile and begin to put it to work for you. Discover what defines Agile project management, and when, how, and where to use it, in this interactive course.
Become familiar with the characteristics of projects and how those drive different approaches and frameworks. Learn how to recognize the environments most appropriate for an Agile approach.
You will learn about Agile planning, estimating techniques, and execution, while exploring various Agile frameworks, such as Scrum, sprints, retrospectives and requirements. Become familiar with a template to create user stories, and examine the history of Agile, as well as common Agile misconceptions.
Finally, you will be able to explore how to use Agile as it pertains to your organization. Learn the terminology of Agile processes and definitions, and when it is appropriate follow the Project Management Institute's (PMI®) Guide to the Project Management Body of Knowledge (PMBOK® Guide).
The information you gain in this course is will lead to, but is not sufficient for, the following certifications: PMI® ACP (Agile Practitioner Professional, PMI® Certified Associate Project Manager (CAPM) and Project Management Professional (PMP) Certifications.
You will receive a manual that contains much of the information covered in the class. Enjoy a team-oriented learning environment while you learn how to use Agile to manage projects like a pro.
Learning Outcomes
Upon successful completion of this course, you will be able to:
Understand characteristics of projects and how those drive different approaches and frameworks.
Know the definition of Agile project management.
Develop the appropriate methodology for an environment.
Understand the differences between predictive/waterfall, hybrid, and agile project management approaches.
Know the basic elements of Scrum and how to facilitate "planning poker" for a team.
Be familiar with categories of requirements, and techniques to elicit requirements.
Understand the importance of facilitating a conversation with the user and know the template for creating a user story.
Be familiar with the typical process used to manage an Agile Project.
Know the primary difference between agile and predictive project life cycle.
Define a sprint, sprint review, and sprint retrospective.
Be familiar with traditional project estimating techniques and how Agile is different.
Who Should Take This Class?
Prerequisites: two or more years of experience in a project management environment is helpful (not required).
Project managers
Anyone who would like to use or better understand Agile project management
Project team members
People who want to explore Agile methods, frameworks, or techniques in projects.
Key stakeholders
Class Details
4 Wednesdays ; Sep 29 to Oct 20 ; 12:00 am to 12:00 am

Location : SCONL; Room Online

Fee : $0
Class ID : 38677 ; SKU : 28984
Instructor